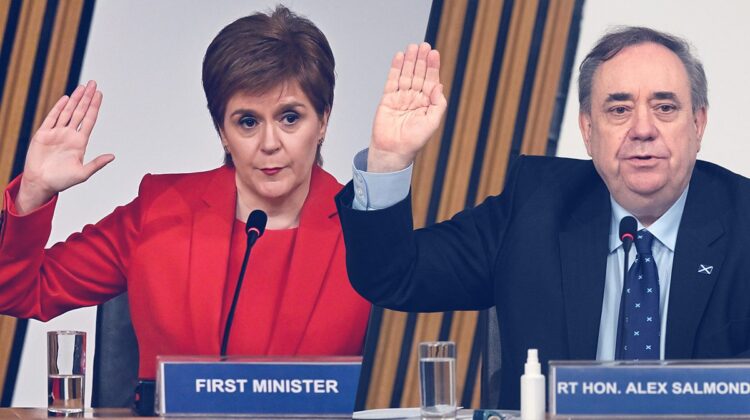 Alex Salmond, Nicola Sturgeon and Lessons for Politics and Public Life

Gerry Hassan
Scottish Review, March 24th 2021
Alex Salmond and Nicola Sturgeon's political relationship has defined Scotland over the past two decades. They oversaw the rise of the SNP and its transformation into a party of power. They achieved and nearly won an indyref – followed by the slow, painful unravelling of their relationship in public; the turbulence of the past three years, and the bitter end of their partnership.
We have seen nothing like it in Scottish or UK politics in living memory. No previous political partnership that has collapsed in recent times did so with such a volcanic implosion – Blair and Brown, Thatcher and Lawson – and in an earlier age Asquith and Lloyd-George which destroyed the once dominant Liberal Party. There is some similarity with the bitter political duels of the 18th and 19th century, including the ultimate 'pistols at dawn' between senior statesman such as Castlereagh and Canning in 1809, that involved on occasion serious injury or death.
The James Hamilton independent report has exonerated Nicola Sturgeon on the big questions of whether she misled Parliament and broke the ministerial code; the Holyrood committee inquiry voted 5:4 that the First Minister misled Parliament but stated that the Hamilton report was the appropriate forum to decide whether Sturgeon broke the ministerial code. What does all this say about Scottish politics, what impact will it have, and what can we have learn from it?
The Salmond-Sturgeon relationship has spanned over two decades from the onset of the Scottish Parliament, establishing itself as a partnership when Salmond came back as SNP leader in 2004 and Sturgeon elected his deputy. This was part of an agreement between the two politicians, with Sturgeon originally planning to stand as leader and when it became clear she might lose to Roseanna Cunningham, Salmond entered the race and Sturgeon switched to, and won, the deputy post. This entered a new phase when the SNP won in 2007, and Salmond became First Minister and Sturgeon Deputy First Minister.
This alliance remade the SNP and Scottish politics. It remade the case for independence. In so doing it dramatically changed both of them as Salmond proved himself a competent First Minister and Sturgeon a successful Deputy. Over 2007-14 Salmond supported and nurtured his deputy, but soon after she became First Minister in November 2014 a set of tensions began to emerge between them. Sturgeon tried to establish herself as her own person, Salmond thought that he would continue to have influence, and there was the issue of any future indyref, which came to the fore after the 2016 Brexit vote and Salmond losing his Commons seat in 2017 (having returned to Westminster in 2015).
The past three years saw serious allegations of sexual assault and misconduct made against Salmond; a Scottish Government investigation found to be unlawful in a judicial review brought by Salmond; followed by a trial of Salmond in which all charges against him were dismissed. Out of the first controversy, two inquiries – Hamilton and the Holyrood committee – were launched and out of these few people involved come out with their reputation intact. One factor is that Salmond's sense of his own entitlement boiled over into a burning resentment and desire for revenge at the woman he once mentored: Nicola Sturgeon.
Lessons for Politics and Public Life
The drama of recent times and the past couple of years throws up big questions for Scotland, politics and public institutions. First, Sturgeon has been cleared of not having broken the ministerial code by Hamilton. But can she find a more generous, inclusive leadership style which is prepared to share power, influence and limelight even with party colleagues, let alone broaden out to a more collaborative approach with the country?
Second, is this the last hurrah for Salmond? He has seen his reputation trashed in recent years from which there is little chance of a complete recovery. This is not just about the nature of the allegations against him and subsequent trial in which he was found not guilty; or his defence of his behaviour in which he admitted that he had never claimed to be a 'saint'. It is also about his programme on the Putin backed TV station RT (formerly Russia Today).
Despite all of this could he stage some kind of comeback which wouldn't amount to full-scale rehabilitation, but could see him have some role? One possibility would be Salmond standing for the Scottish Parliament on the regional list – potentially in North East Scotland which he represented for thirty years in Westminster and Holyrood. He could do this as an independent or as head of the list of the Action for Independence which includes several prominent Salmond supporters. He would only need 6-7% on the list and could then see himself as having some impact at Holyrood. A date to watch is the deadline for candidates: next Wednesday 31 March at 5.00pm.
Third, questions remain about the Scottish Parliament, Scottish Government, Crown Office and other public institutions. The Holyrood committee inquiry was a shambles, distorted by hyper-partisanship, grandstanding and consistent leaking. No one with the exception of Andy Wightman enhanced their reputation, but special mention has to go to Tory Murdo Fraser and Lib Dem Alex Cole-Hamilton for the most base posturing and rushing to condemn without facts or due process. Wightman reflected on the experience: 'Some MSPs and their parties should reflect on the extent to which they weaponised for political advantage an inquiry into how two women were failed over serious complaints.'
Fourth, one major challenge for public life is how do we do accountability and democracy? Not one senior person has fallen on their sword as a result of this set of events – either in the SNP, Government and civil service, or public agencies. If Peter Murrell, married to Nicola Sturgeon, could announce in the next few days that he is moving on from the post of Chief Executive of the SNP after 22 years, he would assist everyone – including his partner.
Fifth, there is the role of the main opposition parties. The Tories have been abrasive and aggressive in their criticisms of Sturgeon, going after her personally sensing that her political mortality was on the line. Yet this approach seemed at times desperate and scattergun. The Tories could never settle on their central charge. Was their critique of Sturgeon based on the failure of the Scottish Government's sexual harassment policy, letting the women complainants down, or some kind of 'deep state' conspiracy to destroy Alex Salmond?
Sixth, Scottish Labour is under new management with Anas Sarwar. He has struck a more emollient tone, distancing himself from the Tory over-the top onslaught, and even some in his own party such as Jackie Baillie who, as a member of the Holyrood committee, has seemed driven by hyper-partisan dislike for all things SNP. The Tory inspired vote of no confidence in Sturgeon this Tuesday was lost 65-31 with the Tories turning it into an attempt to lay down a demarcation line between themselves and Labour and the Lib Dems on the most effective way to oppose the SNP. Sarwar chose to use it to mark out a distinct Labour position which departs from the party's traditional blunderbuss approach towards the SNP.
The Longer Term Challenge

All of this brings us to the challenge of where politics and public life goes now. All political parties need, via the May election, to address the need for policies and ideas on the future of Scotland. Where are the big ideas which can shape the post-COVID environment and, from the opposition parties, where are the practical ideas – not just critiquing but trying to improve on the failings of SNP Scotland?
How do we strengthen democracy in our country? This involves improving the workings of the Scottish Parliament but much more. Hyper-partisanship weakens and distorts political and public life, and weakens accountability and the pursuit of justice and truth. All political parties have a degree of culpability in this.
How can power and authority be better held to account? This has become a major issue after fourteen years of the same party governing Scotland and blurring party/state boundaries. But this was also present when Labour with the Lib Dems was in charge, and before pre-devolution when political power was centred at Westminster. It will take some hard lifting to address these structural, deeply embedded issues about the weakness of accountability in public life, and the historic ability of those with power to avoid the consequences of systemic failure.
Independence is the raison d'être of the SNP but, seven years after the 2014 referendum, independence has not been strategically remade and renewed by the Nationalists. When and how will that happen? And how can it happen in a way which involves more than the SNP and Scottish Government?
How can the Sturgeon leadership and SNP change from the culture and style of the past seven years, taking cognisance of the reality and record of fourteen years in office? Sturgeon is a huge asset to the party, politics and Scotland, and this has been obvious in her diligence and attention to detail in the COVID pandemic. But her leadership is also characterised by short-termism; a lack of obvious direction and strategy; a failure to prioritise issues (at least pre-COVID), and not trusting colleagues or building a collective leadership – instead accruing power to central government and a narrow group of advisers and personnel.
Is it possible that Sturgeon and the SNP can change tack and embrace a different politics and statecraft – learning from the mistakes they made in this set of controversies? The success of her leadership and how it is seen by posterity, as well as her government and the cause of independence, will ultimately depend upon it.
But the wider set of challenges affects all of Scottish political and public life. There are a host of institutions – the Parliament; Government and civil servants and the Crown Office; and individuals – politicians such as Douglas Ross, Ruth Davidson, Murdo Fraser, Adam Tomkins, Alex Cole-Hamilton and Jackie Ballie; Linda Fabiani and her inept chairing of the Holyrood committee; Leslie Evans, Permanent Secretary of the civil service; Lord Advocate James Wolffe; media figures such as the BBC's Sarah Smith along with The Spectator's Fraser Nelson and Andrew Neil; and bloggers such as Wings over Scotland and Craig Murray, who all need to reflect on how they behave and what they say and do in public life.
All of us really need to think about who and what we want to be – and what we stand for. A group of women complainants have been fundamentally let down, and their evidence and experience used for brutal political point scoring. Only this past weekend the Sunday Times spun the evidence of two of the woman complainants about working with Salmond against Sturgeon, leading Dani Garavelli to conclude: 'This was one of a series of attempts to make Sturgeon accountable for Salmond's alleged actions': the age old trope of women paying the price for male misbehaviour.
Processes and procedures need to be overhauled, but more than that all of us have to learn that hyper-partisan politics has its limits, including clouding the pursuit of the truth and justice. We also need to acknowledge that for too long we have not adequately encouraged accountability and scrutiny of those in power and need to start thinking about how best to do that and listen to and respect difficult voices which those in the system might on occasion find uncomfortable.
We do need to collectively look at how we do our politics, how politicians act and what constitutes leadership in public life. Are we really with all the constant noise and micro-activism of managerialism really addressing the big issues about our future as a country and as part of humanity? Or are we telling ourselves comforting stories going through the motions while not addressing the real fundamentals? It is something we need to ask all of our politicians – and ourselves – as we head towards 6 May.