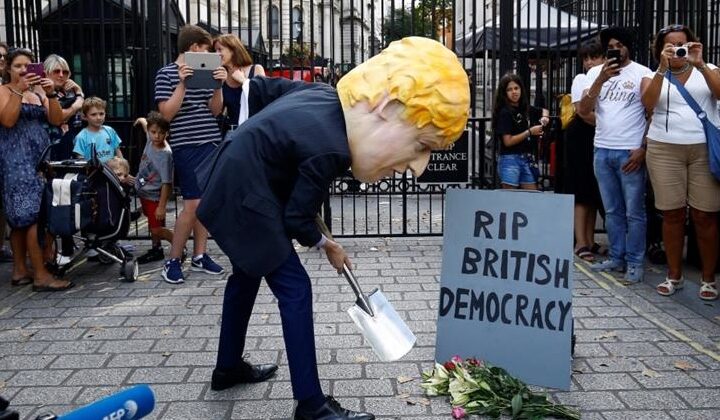 Britain is broken – which is both an opportunity and challenge to Scottish radicals
Gerry Hassan
Sunday National, April 4th 2021
Politics has been highly charged and combative across the UK for many years now. The British political system, its rules and codes, and how politics and power is enacted have been in decline for some time.
While many in Scotland view this as proof that independence is needed as soon as possible, it is also true that Scottish politics has some soul searching to do. Recent times have seen our own controversies about party, government and power which have to be reflected and acted upon.
Trust in the British political system, politicians and institutions have never been in more doubt. Boris Johnson's integrity, honour and word is now openly questioned and seen by many as worthless. None of this should be that surprising as many people who have worked with Johnson over the years have said this, but the scale of his deceit and mendacity are shocking.
From the EU Brexit deal and non-tariff barriers to the Northern Ireland protocol, commitments are cheap to Johnson. He has shamelessly abandoned key manifesto commitments such as maintaining 0.7% GDP in overseas aid and the numbers of the British armed forces. In the past week American Jennifer Arcuri showed the depths of his deception, confirming that during their four-year affair when Johnson was London Mayor, he aided her going on three official overseas trade missions and in accessing £126,000 in public monies.
Past Prime Ministers have been getting themselves in scandal. David Cameron has been acting as a lobbyist for the company Greensill Capital, texting the UK Chancellor Rishi Sunak requesting state support for a firm in which Cameron held shares; shares that would have been worth millions until Greensill's collapse last month. Cameron also facilitated at least ten meetings with the Treasury that gave Greensill access to a COVID business support scheme.
At the beginning of last year, company owner Lex Greensill and Cameron went to Saudi Arabia and met the kingdom's scandal ridden leader Prince Mohammed bin Salman. Cameron frequently used Greensill's corporate jets to travel around the world and has refused to comment on his relationship with the company.
All of this has brought into the open the lax procedures on former ministers, special advisers and civil servants taking jobs in the private sector. In a two-year period after government they are meant to consult the Advisory Committee on Business Appointments (ACOBA) which is funded by the UK Cabinet Office. Tory Patrick Jenkins has observed that "it is only advisory and has no statutory powers" while Tory Eric Pickles, chair of the committee branded it "toothless" and declared that "I'm not aware, in the past 30 years, of a single sanction being imposed. There are no sanctions".
Deeper malaises are at work in UK politics. There is the scandal of the £37 billion test and trace in England – handed over to a host of outsourcers such as Serco and overseen by Tory peer Dido Harding with no experience of public health or public sector leadership. Nicholas Macpherson, former Permanent Secretary to the Treasury said of the programme that it was "the most wasteful public spending of all time" undertaken by UK Governments.
The Tory Government handling of PPE contracts saw cronyism and favouritism on unprecedented proportions. Those close to Tory ministers and MPs were encouraged to apply for multi-million pound contracts via a Whitehall fast track VIP lane which was not publicly promoted and gave preference to those with Tory connections; working to the disadvantage of those who didn't know of it, irrespective of their expertise.
This is part of a wider, depressing picture. Robert Jenrick, still housing minister, saw £25 million in government funding awarded to his own constituency: Newark. Ministers are not meant to take part in decisions about funding in their constituencies. His defence was that the Communities minister Jake Berry had made the decision about Newark, while Jenrick made the decision for a similar amount being allocated to Berry's Rossendale and Darwen seat.
If that were not shocking enough, Rishi Sunak, UK Chancellor, in his budget statement made great play of a £1 billion 'Towns Fund' for deprived parts of England. Yet 39 out of 45 areas awarded monies were Tory constituencies, including his own Richmond constituency in Yorkshire: hardly an area known for its deprivation.
This week saw the publication of the Downing Street report on race led by Tony Sewell which declared there was no institutional racism in the UK, but instead the country was "a beacon to the rest of Europe and the world" on racial equality. Worse it had the audacity to declare that the experience of the slave trade in the Caribbean should be reframed in a way which did not focus on the "profit and suffering" but looked at more positive aspects. The day after the report Downing Street's senior race adviser Samuel Kasumu resigned – with the government insisting the timing was a coincidence.
Added to all this, the UK Government is centralising power and diluting the checks and balances on central government. The Johnson administration is actively looking at ways to reassert parliamentary sovereignty including reducing the powers of the Supreme Court and limiting the scope of judicial review in checking ministerial and government powers. It is in this context that plans on curbing Scottish and Welsh autonomy should be seen, with Welsh First Minister Mark Drakeford calling Johnson's attitude the "greatest threat to the union".
Is the crisis of UK Government about this government or more?
All of this and more leads to the thought: is this just about Boris Johnson and this Tory Government? Or is it about something more profound, namely the systemic failure and erosion of what passes for accountability and democracy in the UK? Sadly the answer is that we are witnessing a set of failures which are about more than one government and set of politicians – and about more than voting one lot out at the next UK election.
There is the demise of the traditional role of UK Prime Minister who are bound by their word, what they say in Parliament, and by their chief manifesto commitments. Johnson is curtailed by none of these, but there has been a long descent through the likes of Tony Blair and Margaret Thatcher and the rise of a Presidential form of government without the formal checks.
Academic Mark Garnett, in his just published study of UK PMs: The British Prime Minister in An Age of Upheaval, thinks that the decline of the post is connected to the impossible pressures and demands upon it – noting that "Prime Ministers now face an improbable and inherently self-defeating task, even at the best of times". Domestic developments have made them "more prominent in politics than ever before", but this has coincided with "a diminution in the ability of all governments – but that of Britain in particular to insulate themselves from 'abroad'".
Related to this has been the collapse and sidelining of any form of Cabinet government – once the key forum of decision making. Not only that, any real sense of ministerial responsibility has long been abandoned. There is the shameless pork barrel politics of Jenrick and Sunak above; and the fact that ministers found to have broken the rules, such as Priti Patel on the ministerial code and Matt Hancock on the law, can remain in office and act with impunity.
Alongside this sad state the codes and practices of central government have become tainted and distorted by the actions of outsourcers, consultants and crony capitalism, with the crisis of COVID being used as cover for a multi-billion pound plundering of public monies. Johnson has taken this to new levels of maladministration, but the descent began under Blair and Thatcher.
Meanwhile, the Tory Party, diminished of resources from its aging membership, has increasingly become reliant for monies on the dark side of finance capitalism – and even more dangerously the monies of Russian and other foreign oligarchs, all of which reinforces crony capitalism and government been seen as a practice by and for the uber-rich. Peter Geoghegan charted the rise of dark monies in his book Democracy for Sale and believes that "British politics has become Americanised through dark money, dirty politics and media manipulation" and that this has accelerated massively under Johnson, with Dominic Cummings a symptom of this not a cause.
What implications are there for Scotland today?
Anyone with a care for democracy and the standards of public life will look at this aghast. From Scotland it looks even worse as most Scots did not vote for this Tory Government. Yet Scottish independence supporters have to be careful not to be completely cavalier, and to assume automatically that they have the complete moral high ground.
Some independence supporters have in recent weeks advanced the argument that there is no need to get worried about 'gaming' the Scottish Parliament electoral system to produce an inflated pro-independence majority. Claiming that such is the rotten, decaying nature of Westminster that all bets are off about what actions Scottish pro-independence politicians should take. This is an awful argument and politics – both indefensible and likely to be counter-productive.
Scotland needs further democracy and desperately needs a higher bar about ethics and standards in public life than just aspiring to be better than Westminster. Just because UK politics have sunk so low, does not give us carte blanche to do anything we like and still think we are more democratic and progressive.
After the controversies of recent years, including the bitter division between Alex Salmond and Nicola Sturgeon, Scotland urgently needs to think about how we do democracy and accountability. We need a strengthened Scottish Parliament and a politics which can hold executive power to account. We have to rethink the committee system of the Parliament and how to make them more robust and independent, particularly in light of the shambles of the Holyrood inquiry, but also looking back at 22 years of experience. And on a wider frame, we need to look at how we do public accountability and aid further democratisation throughout public life.
Britain is undoubtedly broken – but the case for Scottish self-government and its principled, moral and progressive characteristics is only strengthened and obvious to people if it is lived, embodied and advanced every day. And in this the cause of democratising Scotland has hopefully barely begun.