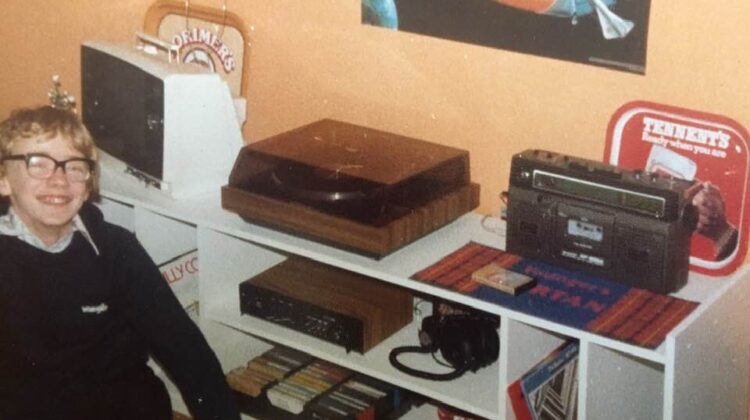 My Favourite Music of 2020
Gerry Hassan
Some Great Reward, December 17th 2020
For the past six years I have put together my sounds of the year. This year is a special one: 2020 was unique for obvious reasons and it is the first time I have undertaken this for Some Great Reward, the wonderful record shop run by Olly and Faye on Victoria Road, Govanhill on Glasgow's Southside.
For the past two and a half years we have run a monthly record club – Southside Record Club – at the shop with the support and input of Olly and Faye. Several records in this list are inspired by the music we played in the past year, and my choices are in three parts – new releases, compilations and reissues of the year, and older albums I have bought and listened to.
New Releases
Return to Y'hup: The World of Ivor Cutler, Various Artists
A charming tribute album to Ivor Cutler involving mostly Scottish-based artists from Karine Polwart, Emma Pollock, James Yorkston to Pictish Trail alongside Robert Wyatt, and beautifully put together by Chemikal Underground.
Rejoice, Tony Allen and Hugh Masekela
Two stellar stars of African music combine for an album which comes out after both have passed away: intimate, laid back and filled with joy – and the feel of two great musicians making something intoxicating together.
The Universe Inside, The Dream Syndicate
Love the ambition and bold statement of this. The LA-based group are well into their career and open their latest with a 21 minute hypnotic predominantly instrumental track with minimal vocals 'The Regulator' which is the stand-out of this compelling album.
Last Night From Glasgow: Isolation Sessions, Various Artists
The great folks at Last Night bring together 22 tracks by artists from their stable who recorded in isolation in March and April – covering tracks by other artists on the label. A great snapshot of their range, the sounds of the city and the onset of the COVID-19 lockdown.
Heaven to a Tortured Mind, Yves Tumor
Sean Bowie's latest album has a swaggering ambition and title, whose opening track – 'Gospel for a New Century' – foretells what is to come. All to the backdrop of a tight, funky rhythm speaking to your feet; with lyrics speaking to another dimension exclaiming 'Carry me away into your spirit'.
Italian Ice, Nicola Aitkens
This is the fifth album from Aitkens but a new discovery for me. A big, classic, evocative sound – part retro, part contemporary, drawing from soul and recorded at Muscle Shoals. Some great lyrics, particularly on big opener 'Am Gold'.
Rough and Rowdy Ways, Bob Dylan
The difficult 39th album: a daring Dylan coming to terms with the legend that is Dylan. This is explicitly about the passing of time in America and the history that Dylan has lived through. Keynote track is the epic 17 minute long 'Murder Must Foul' which has a Tom Waits feel to it – offering a canvas covering 20th century Americana including JFK and the arrival of the Beatles.
Róisín Machine, Róisín Murphy
Murphy was lead singer of Moloko and is now making sounds which draw from classic dance and disco but which sound contemporary. This is her lockdown album: filled with fantasy, escape and hypnotic tracks to lose yourself in. Never have we needed such sounds.
Untitled (Black Is), SAULT
The tumultuous year we have lived through needs music to match the times and we find it thankfully in SAULT, the mysterious London based combo who released two epic albums. This is the first of the two – and the more politically challenging – inspired by the death of George Floyd and Black Lives Matter and hence bold, courageous and striking.
Shall We Go On Sinning So That Grace May Increase?, The Soft Pink Truth
Too much modern music doesn't try to break new ground, but this does so in a way which speaks to our age but is also timeless. This album has a sense of communion and coming together while drawing from ambient influences. There are hints of Talk Talk, Slint and post-rock but there is also something otherworldly and unique.
Set My Heart on Fire Immediately, Perfume Genius
An astonishing album from US artist Mike Hadreas (aka Perfume Genius) which takes music into new places and unexpected new shapes. This could be called 'indie rock' by some with a lineage to the 80s and 9os but that does not describe its angularity and captivating qualities. This is rich, fascinating music with stunning melodies and striking arrangements all aiding an affirmation of the human spirit, its many facets, and empathy and emotion.
1. Billy Nomates, Billy Nomates
A stunning debut by Tor Maries (who goes by the moniker Billy Nomates) known for collaborating with Sleaford Mods. What makes it special is how she frames her experience and tells stories needing to be told: filled with anger, indignation and humour. On tracks like 'Hippy Elite' and 'FNP' (standing for 'Forgotten Normal People') she takes aim at targets including middle class trendy lefties, singing on the latter – 'I was born with a fork not a spoon, and things fall through'. Recommended to me by Faye at Some Great Reward; I can't recommend this more highly.
Special mentions for:
Drive-By Truckers, The New OK; Sparks; Céu; Cornershop; Nadine Shah; Sault, Untitled (Rise is); Stephen Malkmus; Moses Sumney; Jaga Jazzist; Rustin Man; Paul McCartney, McCartney III completing an unlikely trio.
Biggest disappointment:
Hal Willner put together some great tribute albums (Mingus, Monk, Kurt Weill) and remade the tribute album and his death at 62 from COVID was a tragic loss. What a shame that his last project: a tribute album to Marc Bolan: Angelheaded Hipster, was a disappointment, playing it too straight.
Compilations and Reissues of the Year
You Brought the Sunshine: The Sound of Gospel Recordings 1976-1981, Clark Sisters
A new discovery for me – the Clark Sisters who made a major impact on gospel in the US in the 1970s and 1980s. This compilation captures the sisters at their peak with some of the most joyful and uplifting gospel music ever recorded.
The Queen of Italian Pop 1963-1967, Mina
Mina is the great Italian diva of pop and this collection from the wonderful Ace Records captures her in her formative years. This has the pop and allure of Dusty combined with superb arrangements and melodies.
Transmission 1962-68, Dusty Springfield
Speaking of Dusty, this release brings together three CDs of BBC classic TV recordings (from the likes of the 'Dusty' series) finally being released in audio. The sound is not perfect but these are historic and fantastic Dusty interpretations, many of which she did not cut on albums and singles.
African Rhythms 1970-82, Oneness of Juju
An invigorating set of sounds from one of the funkiest combos of the 1970s – led by James 'Plunky' Branch – bringing together their psychic and cosmic sounds.
Orange Crate Art, Brian Wilson and Van Dyke Parks
A lesser known release from the Brian Wilson back catalogue: his 1995 reunion with 'SMiLE' collaborator van Dyke Parks. This is charming Americana with a link to 'SMiLE' and an entire extra disc of unreleased versions and a couple of covers including takes on Gershwin's 'Love is Here to Stay' and 'Rhapsody in Blue'.
Homegrown, Neil Young
The much waited for release of Neil Young's 1974 'Homegrown' is finally released, and contains many gems such as 'Love is a Rose' and 'Little Wing'. Loses a bit of shine for the fact it was immediately repackaged in the 'Archives' box released only a couple of months later.
Archives Volume One: The Early Years (1963-1967), Joni Mitchell
Joni finally gets a proper box as she opens her archives. This set covers early folkie Joni as she took to the stage of folk clubs in the early to mid-1960s, even being introduced at one venue as 'Joni Anderson' (her maiden name). Glorious to think that we have lots more to come.
Power, Corruption and Lies, New Order
The 1983 album in which New Order came of age, and completely left the shadow of Joy Division, gets the box set treatment as part of the reissuing of their entire back catalogue. My favourite NO album from the moment it was released to this day.
Old Forgotten Altars: 1960 Demos, John Stewart
The wonderful singer-songwriter John Stewart – who wrote and gave us such classics as 'Daydream Believer' and 'California Bloodlines' – is a fitting figure for major reissues. This does not disappoint, capturing him at the start of his career as he begins to perfect his folk-country style.
All the Young Droogs: 60 Juvenile Delinquent Wrecks, Various Artists
British pop and rock was in ferment in the early 1970s and this 3CD set captures that glorious moment with a host of lesser known acts who embraced the power of glam and saw it as a way for mostly working class kids to make a statement.
Special mentions:
Sharon Jones and the Dap-Kings, Just Dropped in (To See What Condition My Rendition Was In); A Cellarful of Motown Volume 5; Hit Me: The Best of Ian Dury; Frank Sinatra, Nice 'n' Easy; Ella Fitzgerald, The Lost Berlin Tapes.
Older Albums and Retreads
Walking in Space, Quincy Jones (1969)
Quincy Jones tribute and honouring of the space race and landing on the moon. One of the best Quincy albums combining jazz and good grooves with a sense of history.
The Thomas Crown Affair: Original Soundtrack, Michel Legrand (1968)
The stylish Steve McQueen-Faye Dunaway film got a soundtrack fitting for it which combines the opening track and hit: 'The Windmills of Your Mind' sung by Noel Harrison with a Michel Legrand set of orchestrations which capture the intrigue, mind games and panache of the film.
Carry On: 20 Years of Carry On Films 1958-1978 (2004)
Two CDs from Silva Screen combining music and dialogue from the classic 'Carry On' films. They are all here: the great Kenneth Williams remarks: 'Infamy, Infamy, they've all got it in for me!' to the laughs of Sid James and innuendo of the recently departed Barbara Windsor.
Children of the Ghetto: The PYE Anthology, Real Thing (2000)
A two-disc compilation of the Real Thing which rightly acknowledges their pioneering role in UK soul and black music. Going well beyond the hits, this includes the long neglected political dimension of their music such as 'Liverpool 8' and the title track – later covered by Courtney Pine.
Harlem River Band (1971)
A long-neglected gem and a great 'Nu Yorica' release from a band who only released one proper studio album. The creation of Eddie Palmieri and his brother Charlie this Latin American funk should have sold in the millions, but somehow stiffed.
Complete Recordings 1992-95, Sugar (2014)
All the releases of the blistering Sugar, Bob Mould's 1990s band, remastered: Copper Blue', 'Beaster', 'File Under Easy Listening' (a sarcastic title), B-sides and a live album.
Magic Christian Music, Badfinger (1970)
The story of Badfinger is a sad one: the Apple Record hopefuls who could have had it all. This is their first release as Badfinger, containing the McCartney penned hit 'Come and Get It' and album of power pop gems.
Soul & Swagger: The Complete '5' Royales 1951-1967, 5 Royales (2014)
The 5 Royales are one of the most important groups in the history of R 'n' B and soul and this set captures all their great moments and more: 141 tracks remastered and presented with a book of the group's history.
Oscar Peterson plays Duke Ellington (1999)
A compilation of Oscar Peterson playing the great Duke over twenty years. It concludes on a high, with Oscar live on stage introducing and playing with Duke on the classic 'Take the 'A' Train'.
Blank & Jones, So80s Presents ZTT (A Remixed Obstacle in the Path of the Obvious) (2014)
The German duo Blank & Jones have released a series of albums celebrating the excesses of 1980s music and the 12 inch and remix. This set captures rare mixes of the best of ZTT: Frankie, Propaganda and Art of Noise.
Special mentions:
Sandie Shaw, Cool About You: The BBC Sessions 1984-1988; The Prisoner, Files One-Three; Guided by Voices; Anita O'Day; Al Wilson; The Great Rock 'n' Roll Swindle; Supertramp, Breakfast in America; David Toop, Oceans of Sound Volumes Two-Four.
Other commendations:
A special thanks to all those who have kept the flame alive for music, and to independent and emerging artists. HT to 'The Quietus' site and in terms of passion for older sounds a special mention to the Giggens Channel on YouTube in the US who has made me even more appreciate the sounds of the Beach Boys in the 1960s and 1970s and Brian Wilson. Here's to the return of live music in 2021, music that isn't corporatised and globalised, and festivals which are genuine festivals. And here is to independent record stores like Some Great Reward and Southside Record Club and hearing new sounds in the new year.