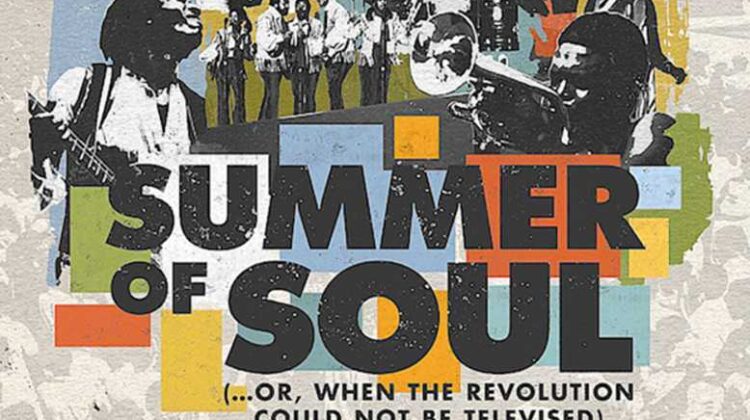 My Musical Highlights of the Year
Gerry Hassan
Bella Caledonia, 17 December 2021
This year in music does seem to have been incredibly long, with what I was grooving to at the start of the year seems eons ago. Part due to COVID and the lack of live music, and part it being a year of two halves – one in Glasgow, one in Kirkcudbright – with the resulting upheaval of moving a lifetime's worth of music.
Without further ado, here are my best new albums of the year, best reissues and older albums that I have turned to for the first time; as well as musical highlights and the odd disappointment.
New Albums
Yndi: Noir Brésil
Born in Paris, based in Berlin, and with Brazilian roots, Yndi Ferreira puts together a compelling electropop fantasy soundtrack that is luscious and hypnotic and held together by her stunning voice. Potentially the arrival of a major new talent.
The Daptone Super Soul Revue Live at the Apollo!
The late great Sharon Jones and the Dap-Kings, Charles Bradley and others at a night in the Harlem Apollo in honour of the great Daptone label.
Lizzie Reid: Crucible
The first proper release from Glasgow Southside singer Lizzie Reid fulfils all its potential and showcases a talent and singer-songwriter for the future. Recorded at home this is an intimate album with memorable music and songs which point to a big future.
Gazelle Twin & NYX, Deep England
An album that invokes a dark, dysfunctional England alongside the sounds of folk music, countryside and small towns. Opening with chiming church bells we are invited into a chorus of cacophonous female voices. Drawing on techno, horror movies and nightmares, this is an England given the name 'deep England' from writer Patrick Wright (author of 'On Living in an Old Country'). Haunting and original.
Stanley Odd: Stay Odd: The Magic of Everyday
Back after a long hiatus with their fourth album proper vintage hip-hoppers led by Dave Hook turn in the goods again. Songs with great hooks and lyrics about life in contemporary Scotland that are both funny and social commentary. Let's hope we don't have to wait so long for the next instalment.
The Beatles and India
This is the album inspired by the film of the same name; and a cultural treasure trove: Indian artists cover Beatle related tracks written and inspired by their famous 1968 Indian sojourn. There are so many highs here adding something new to well-kent tracks: my favourite is Lennon's 'India, India' covered by Nikhil D'Souza.
Jerry Joseph: The Beautiful Madness
Joseph cuts an album produced by Patterson Hood of the Drive-By Truckers with the DBTs as his backing band. These are songs reflecting on America worthy of Springsteen or Waits and why this wasn't top of many lists is a mystery.
Jerry Joseph, Sugar Smacks
https://www.youtube.com/watch?v=xCIygAMldXc
The Archives, Carry Me Home: A Reggae Tribute to Gil Scott-Heron and Brian Jackson
At last a tribute to the musical career of Gil Scott-Heron and his long-term musical partner Brian Jackson. A lovingly put together album with original takes on some of Gil and Brian's classics: 'Home is Where the Hatred Is', 'Winter in America' and 'Rivers of My Father'.
Dry Cleaning: New Long Leg
An audacious debut and a breath of fresh air; in parts there are the sounds evocative of Saint Etienne meets Wire but Florence Shaw and Dry Cleaning transcend their influences. Songs about real life issues with angular guitar hooks and humour – all sung in an intoxicating way.
Weather Station: Ignorance
A stunning experience from start to finish; filled with atmosphere, spaces and silence Canadian Tamara Lindema and her band pens ten songs which on first glance look like they are about personal break-up ('Loss'; 'Separated') but which are about her emotional response to the climate crisis.
Floating Points/Pharoah Sanders: Promises
Two musical pioneers join forces: one an emerging new voice; the other in his eighties who has a stellar back catalogue but not released anything in years. Together they make something astounding that stands with the best either have done. This is music beyond narrow genre; part jazz, part ambient, part classical, and all the better for it.
Little Simz: Sometimes I Might Be Introvert
A unique British talent breaks through to a new level of artistry and musical achievement. There is so much to like and love about this album: it is fun, catchy, dance-like, classy and yet also serious and about big stuff. The album's title is a backronym of Simbi – part of Simz's full first name, Simbiatu – and a nod to these difficult COVID times.
Little Simz, Woman
https://www.youtube.com/watch?v=zHGf6tmnLYE
Bubbling Under:
Robert Plant and Alison Krauss, Raise the Roof; SAULT, Nine; Ram On: 50th Anniversary Tribute to Paul and Linda McCartney's Ram, by Denny Seiwell and others (I love this album but it just missed out!); Black Country, New Road, For The First Time; The The, Comeback Special; Paul McCartney, McCartney III Imagined; Saint Etienne, I've Been Trying to Tell You; Tony Allen, There is No End; Self-Esteem, Prioritise Pleasure; Mike Cooley, Patterson Hood and Jason Isbell, Live at the Shoals Theatre; Mdou Moctar, Afrique Victime; Fatima Al Qadiri, Medieval Femme.
Reissues and Compilations
The Jazz Butcher: Dr. Cholmondley Repents: A-Sides, B-Sides and Seasides
A four-album gathering of the genius that was the late Pat Fish (real name Patrick Huntrods) who died in October. The range of A and B sides is simply staggering and in an alternative universe many of these tracks ('Southern Mark Smith'; 'Sixteen Years' railing against Tory privatisation) would have been hits.
The Jazz Butcher, Sixteen Years
https://www.youtube.com/watch?v=CCqIxyYrpYY
Jackie Leven: Straight Outta Caledonia
A brilliant title for a completely one-off Scottish genius of a singer-songwriter, performer and composer. Leven passed away in 2011 at the age of 61 and this compact collection is a great introduction to a musical giant. Leven wrote songs about the difficult things: damaged men, wounded communities, and how we make sense of the world in the state it is.
Leslie Winer: When I Hit You – You'll Feel It
An anthology of the enigmatic Winer who combined dub and trip hop and while it did not make any waves commercially it influenced a host of musical voices such as Tricky and Neneh Cherry. Includes several tracks from her classic 'Witch' album.
Cold Wave #1
A Soul Jazz collection of cutting sounds from the 'Cold Wave' dance scene of the 1970s and 1980s.
Habibi Funk: An Eclectic Selection of Music from the Arab World Part Two
A varied compilation from a great label which this album is named after. Covering music from the 1960s, 1970s and 1980s, numerous styles and countries are represented include one Lebanese singer called Tony Benn.
George Harrison: All Things Must Pass
George's magnus opus finally given the retrospective it deserves. This contains George's demos of most of the album that he cut over a couple of days in May 1970 in the aftermath of the public break-up of the Beatles.
Beach Boys: Feel Flows: The Sunflower and Surf's Up Sessions 1969-71
A golden era of creativity for the Beach Boys as post-Smile/post-Capitol they struggle to find a place and their muse and then did so, briefly even becoming hip in early 1970s America. Sunflower and Surf's Up and the extras show the band never worked and recorded in such a collective way.
Gang of Four: 77-81
A long over-due box set collecting the early works of Gang of Four including all of Entertainment and Solid Gold as well as singles and extra tracks.
John Lennon/Plastic Ono Band
Lennon's most striking and challenging solo album. It still stands as the statement of an artist addressing his past, stardom and the mythology of the Beatles.
Hasaan Ibn Ali: Metaphysics
2021 finally saw Hasaan Ibn Ali (who died in 1980 aged 49) get the plaudits he has long deserved as a brilliant pianist who played with Max Roach and influenced lots of the jazz greats: John Coltrane being the most obvious. This collection draws together tracks from 1965 for Atlantic Records.
Do What You Love: The Trunk Records 25th Anniversary Collection
The brilliant tour de force that is Jonny Trunk and Trunk Records have reclaimed and saved so much leftfield music in the UK. This contains such noteworthy tracks as how to work and address people via telephone and lots more social history and oddities.
Laura Nyro: Go Find the Moon: The Audition Tape
The plaudits may have gone to the American Dreamer box set of her first eight albums (which I already have), but this is a piece of history: the eight songs from 1966 that won Nyro a record contract.
Bubbling Under:
Joni Mitchell, Archives Volume Two: The Reprise Years 1968-71; Stereolab, Electronically Possessed: Switched On Volume 4; Nancy Sinatra, Start Walkin' 1965-1976; Bill Evans, Everybody Still Digs Bill Evans; John Coltrane, A Love Supreme: Live in Seattle; Alice Coltrane, Kirtan: Turiya Sings; Motorhead, Everything Louder Forever: The Very Best of.
Previous Releases newly visited
Nina Simone: A Single Woman (1993)
The last official release from Simone, nearly universally ignored at the time. Looking back this is a staggering release from a singular talent. Opening with a defiant 'A Single Woman' which is Rod McKuen's 'A Single Man' remade, this reissue has seven extra tracks including a magical 'Sign O' The Times' (Prince) and stripped back 'The Long and Winding Road' (The Beatles).
Nina Simone, Sign O' The Times
https://www.youtube.com/watch?v=CCqIxyYrpYY
Nina Simone: Complete RCA Albums Collection (2019)
Nine albums covering Simone's career from 1967-74. This includes some of her greatest albums after her Philips period and greatest interpretations; the albums including High Priestess of Soul and Nina Simone Sings the Blues.
Kirk Franklin: Essential (2012)
Soul, R&B, gospel and life-affirming music are all present in the music of Kirk Franklin. This is a great introduction to an artist I had never heard of and who adds joy and celebration to anyone who listens to his music.
Leslie Winer: Witch (1990)
This is Leslie Winer's great album and statement. Now over thirty years old it sounds as fresh, cutting edge and filled with life as it did when first released. A sound and attitude that countless peers copied and tried to emulate. This is the original – mixing dub, trip hop, club and more – and with such attitude.
Drive-By Truckers: Southern Rock Opera (2001)
The DBTs have had an amazing run of albums and music; this is the album that broke them and which I have loved for 20 years. This is the original Soul Dump Records release which the DBTs and their friends self-financed: a hard rock album about growing up in 'the South' in the 1970s, race, class and the redemptive power of rock.
Jackie Leven: Fairy Tales for Hard Men (1997)
Leven was a one-off and this is one of his most memorable and powerful albums.  This is as the title suggests about men and masculinity – emotions, life, loss and facing challenges in life.
Alan Rankine: The World Begins to Look its Age (1986)
One half of the Associates with Billy Mackenzie. This is Alan Rankine's first solo album: clunky 1980s indie production and Rankine is no natural frontman and singer. But a couple of the tracks here are killers: the title track and 'The Sandman' in particular.
Warm and Beautiful: A Tribute to Paul McCartney (2001)
A Japanese release combining two tribute albums to McCartney: Listen to What The Man Said and Coming Up: Independent Artist Pay Tribute.
Abbey Lincoln: Abbey is Blue (1959)
Abbey in top vocal form with this collection of standards and one newly written track: a precursor to the civil rights soul of the 1960s.
Sparks: No. 1 in Heaven (1979)
Sparks were honoured this year in the Edgar Wright film The Sparks Brothers and this is one of their great albums known for 'The Number One Song in Heaven' and 'Beat the Clock'.
A final set of thoughts: Music Films and Those We Have Lost
Two music films completely gripped and moved me – to tears at points. Both were from 1969 and saw footage never seen before become public. The first was the much hailed The Beatles: Get Back – an eight-hour intimate portrayal of the closing days of the band which provided fresh light on this much talked about period.
The other was Summer of Soul centred on the 1969 Harlem Cultural Festival and directed by Ahmir 'Questlove' Thompson. This is dynamite soul, R&B, gospel, black culture and politics; with the voices of attendees and participants looking back (some like 5th Dimension having never seen the footage of themselves live) being overwhelming and life-affirming; particular highs include an explosive performance from Sly and the Family Stone, Nina Simone and Stevie Wonder on the cusp of his transition into 1970s star.
As a heretical thought, while the Beatles film was all we could have hoped for the same could not be said of the music box set. Only fifty years to get right and they blew it. Not just two CDs with only 40 minutes of music on each of them, but no rooftop concert and piles of tracks remaining unreleased – 'The Palace of the Kingdom of the Birds' to give but one glorious example (an extract of which is heard at the end of episode one of the film). Maybe they are all being saved for a Get Back soundtrack when the film gets a cinema release, but a poor show from the Beatles estate and Apple.
And a thought on those we have lost. Two blossoming talents died at tragically early ages. First, Glasgow-born SOPHIE (aka Sophie Xeon) who made hypnotic dance music died in Athens at the age of 34; and then the brilliant Kenyan-Scottish Heir of the Cursed (aka Beldina Odenyo Onassis) died unexpectedly aged 31 who had shown in her live performances and collaborations her stunning voice and work.