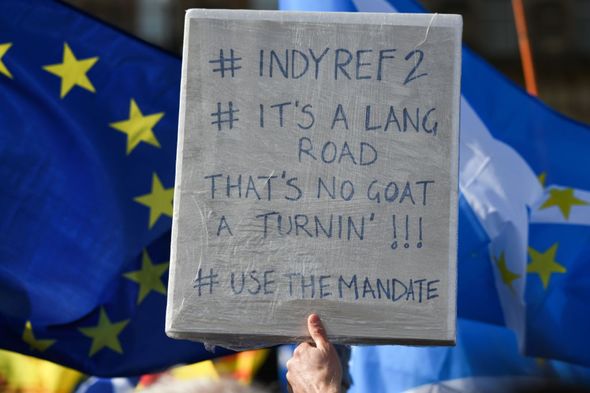 Scotland already is quasi-independence. It is time to own that and act like that

Gerry Hassan

Sunday National, March 7th 2021
We've had a week of huge drama and court politics – from ongoing UK Royal Family splits to the SNP stand-off between Sturgeon and Salmond and their respective camps.
The two may compete as theatre, psychodrama and power politics whilst throwing light on gender politics, and the nature and limits of democracy. But there are important differences – with Scotland's controversy also posing big questions of the SNP, Scottish Government, public institutions, and future of independence.
Putting to the side the partisan take of too many on Sturgeon v Salmond, it is difficult to disagree with Joan Smith in The Guardian: "The gender politics of Sturgeon v Salmond can't be ignored. The story is complex, but there's something disturbing about a powerful man raging against his female former protégé." And it is also possible to agree with James Mitchell of Edinburgh University in The Times letters: "The First Minister and her government have failed to be accountable and transparent. In essence, the Scottish Government has shown contempt for the founding principles of the Scottish Parliament."
There are many questions about how the Scottish Government and Parliament do politics. One outlier suggestion came from The Spectator's Stephen Daisley, who seemed to suggest that this was all Westminster's fault for allowing a no-fault devolution. One where Westminster was always there to be blamed for Scotland's shortcomings, but which would not intervene to assert itself.
While it is easy to dismiss such views, there does need to be an assessment of the 22 years of the Scottish Parliament and 14 years of SNP Government – in terms of performance and what could be better. It seems inarguable to point out that 'devolution' was never conceived as a democratising enterprise but about legitimising the existing state of affairs, and that two decades on Scotland is still a limited democracy which has not seen power dispersed throughout the country.
The Scottish Parliament could do with renewing and reinvigorating its processes and procedures. Like most parliaments the executive has become more dominant and able to get away with too much, while the Scottish Parliament committee system has not proven itself enough of a check on government.
Similarly the SNP need to look afresh at how they do politics and government. The party itself has become disconnected from government, its campaigning too complacent and sure of itself, and the leadership cut off from the grass roots and most parliamentarians. Peter Murrell's twenty-two years as chief executive of the party has seen many triumphs, but he has now become a lightning rod for dissatisfaction with the way things are, and it would be helpful for everyone including Murrell if he left post-election, allowing the party to develop into a new phase where command and control from the leadership is not so omnipresent.
Owning Independence  
Then there is the question of independence – which has had little substantial work done on it post-2014, bar the SNP Growth Commission. There does need to be a strategy on independence about more than an indyref but that remakes the offer, feel and content of independence. This should move beyond how to get and win a referendum – which is a politics of process and hence a means to an end, as are any attempts at finding substitutes such as a general election mandate.
An independence strategy has to have a sense of timescales, rather than continual sense of imminence and drift which has been apparent post-Brexit vote. This has given the impression of the allure of an indyref being used by the SNP leadership – marching troops to the top of the hill and down again – to maintain party discipline and prevent awkward questions.
Pivotal to this is the nature and content of the independence offer. This includes addressing detail, finances and transition, but also the question of how the independence offer is put together and thus who feels they own it and can buy into it. Last time the 2013 White Paper appeared from the government system with no consultation or real involvement beyond the SNP leadership. This caused tensions then, even in the midst of an indyref, and such an approach cannot be contemplated again for it would come at much more cost and disquiet.
How difficult would it be for the Scottish Government – assuming the SNP win in May – to establish an independent panel who can guide and put together the main principles of the independence vision? This contains risks in what emerges, but it would show a confidence in the principles and politics of independence, in a leadership that was prepared to let go, and an approach which treated voters as adults.
Running alongside this is the philosophy of independence with ex-Theresa May adviser Alexander Walker in The Times this week waking up to the idea that complete independence was a fantasy in an interdependent world – and this showed that Scottish independence would be a chimera. "Imagine the negotiations after a Yes majority" writes Walker. "We would soon learn that while Scottish 'independence' is figuratively plausible, it is literally impossible." He did concede that "This is the case for any modern nation. This is not unique to Scotland: it is simply a requirement of the modern age." This is not news to most independence supporters, but is redolent of Westminster's wider ignorance of Scotland, and in reality is the sort of dressing down he should aim at the ultra-Brexiteers.
Welsh First Minister Mark Drakeford commented on the state of the UK this week: "We have to recognise that the union as it is, is over". Boris Johnson's government he said was "aggressively unilateral" towards the devolved governments, had an "outright hostility to devolution" and was out to accrue as much power as possible to the political centre.
The defence of the union comes down to muscular unionism versus what Michael Gove calls 'Project Love' – which is all a bit 2014. One of the strands is the idea of putting the union flag on all sorts of UK Government initiatives north of the border to build visible bridgeheads which showcase the power of the union.
A war of flags is a classic example of how the UK Government in its bunker unionism misunderstands Scotland – reducing it to a contest of symbols, leaving aside democracy, legitimacy and values. Scotland can be bought off with the shameless pork-barrel politics which characterise Johnson and Sunak – all branded with the Union Jack just in case anyone misses the point. This is the politics of vexillology – which means the study of flags – and 'vex nats' – a phrase I came up with in the indyref and which the UK Government has now fully embraced. This is an unapologetic politics of nationalism and one that plans to go head to head with Scottish nationalism.
Burning down the house
There is of course over the top commentary everywhere. There are the alt-nats who have embraced the notion of a more populist argument for independence and political change, some of which is driven by an understandable impatience and frustration at the SNP's gradualist, slow paced politics.
There is over-statement and abuse. It is not very helpful to talk as one independence blogger did this week of Salmond critics as suffering from "Salmond Derangement Syndrome" and making the case that too many of such voices were comparing Salmond with the dysfunctional demagogic politics of Trump. But there is much worse than that, with sexism, misogyny and abusive comments about Sturgeon from people who are pro-independence.
Such heated commentary is all over the body politic these past few weeks. There is the continual diminution of the Scottish Parliament and Government along with the Crown Office, who all could improve their operations and should be rightly assessed and held to account, but have all been trashed again and again. Scotland has been called 'a one party state' and 'dictatorship' – and by some of the most florid voices the words 'fascist' and 'communist' even trundled out.
The usually considered Alex Massie last weekend declared of the desire pre-devolution that the Scottish Parliament would be different and better than Westminster, that this was a "sham bragging for a sham nation" –not a very attractive proposition or phrase. When challenged by myself on this he said that he was invoking Edwin Muir and his poem 'Scotland 1941' which has the evocative line, "Burns and Scott, sham bards for a sham nation". But of course he had not referenced the Muir invocation and was trying to be too clever by half in his dismissive attitude.
What many pro-union commentators and perspectives miss is that Scotland is already quasi-independent. The way we talk, live, think, act, co-operate and do our politics are all informed by this, and it is not going to be reversed in the near-future. Our everyday human experience of Scotland confirms this feeling and state of mind.
This independence is the new normal. It is something which has evolved dramatically over the past two decades of the Parliament, but has a longer tail back to the explosion of the constitutional question in the 1960s and National Covenant in the 1940s and 1950s, and which was always there in the background even at the height of unionist Scotland.
This story aids the advance of formal independence, but it does not mean there is any room for complacency or thinking it is just self-evident that Scotland's public institutions are superior to Westminster and the British state. Scotland's public life – from its government and Parliament to politicians, media and civic life – still has room for improvement and have too often fallen short in holding power to account. Embracing collective responsibility, looking to change where we fall short, and not blaming others for our own shortcomings, are not a sign of weakness but strength in Scotland's journey of self-government.