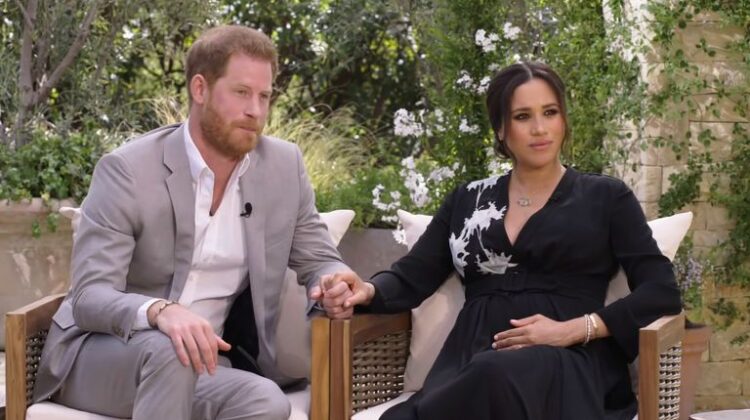 The latest Royal Family controversy is much more than a side show
Gerry Hassan
Scottish Review, March 10th 2021
The royal family soap opera continues – fascinating for many, a diversion for some, and a repugnant non-story for others. Meghan and Harry's long trailed Oprah interview might be part of celebrity culture and rich privileged royals cashing in on the lucrative American market, but it is about much more and cannot be so easily dismissed.
It has brought to a head issues of racism amongst the Windsors; how the institution understands its occupational health role and supports those struggling; how the Firm operates and treats incomers, women and people of colour – and what kind of Britain it portrays and validates. This cannot on any level just be dismissed as a family affair.
The Royal Family as soap opera and more
A small bit of recent history is needed. The royal family as soap opera is in media terms a relatively recent phenomenon – and dates back to the House of Windsor's decision in the late 1960s to open itself up and let light into its dark corners. There was the televised investiture of Charles as the Prince of Wales in 1969 – a tradition itself only revived by David Lloyd George in 1911; then the BBC documentary The Royals the same year (and never shown again after 1972 such was the unfavourable view it gave); all leading to what was meant to be the crowning glory – the marriage of Charles and Diana in July 1981 to a huge global TV audience.
This approach was deeply influenced by changes going on in society and media. The sixties witnessed a seismic shift in how institutions, authority and traditions were seen; deference was out and being classless was viewed as being 'in' and hip. Related to this, the media was transforming with Rupert Murdoch's entry into print media through buying The Sun which began a revolution leading to the tabloidisation of the press, of which coverage of all things royal was pivotal.
The royal turn towards being Britain's own 'Dynasty' has brought forth not triumph but rather disaster, calamity and scandals. As a feudal institution, based on the hereditary principle and hence in its foundation anti-modern, it has floundered in the modern media age (on which more below) because it is swimming against the grain of so much of what makes up society, culture and popular attitudes. This is literally an institution out of time and out of place, and by its position and importance is clearly stating that the UK is not a modern country, but rather one that wants to be defined by its past.
The Harry and Meghan interview has been pored over and dissected like a Kremlinology text. A couple of key points will suffice. First, there are the devastating racist allegations by the couple about attitudes towards and treatment of their son Archie, which the Palace has officially responded to by saying that 'they are taken very seriously and will be addressed by the family privately.' Second, there were Meghan's pointed remarks about the lack of support when she felt suicidal and unable to cope – all pointing to an emotionally barren, crippling institution. Third, Harry talked of being 'trapped' as an individual, and said the same of his father Charles and brother William. This is an institution which bestows privilege at the price of liberty, keeping royal individuals in a gilded cage with limited freedom and personal choice.
All of these remarks and more point to a system which is not benign or enlightened – and is about more than the royal family. This is about The Crown: an institution which, as the drama series of the same name conveyed, is a body of advisers and players who shape the Royal Household and define protocol, engagements and pronouncements. The memory and tragedy of Harry's mother Diana resonates in many of Harry and Meghan's remarks; she felt like a prisoner, experiencing mental health distress without receiving any sympathy or support, and cast out of the royals with no royal security to horrible consequences. Harry even explicitly said that 'my biggest concern was history repeating itself' with himself and Meghan. Over thirty years the Royal Household seem to have learned nothing and to have no duty of care whatsoever despite the people and resources they can call on.
One of the most illuminating sections came when Harry talked of 'the invisible contract' between the royals and the press by which an intimate set of relationships and access to the royals is maintained in the hope of a certain kind of spin put on coverage: all of which is redolent of the 'succulent lamb journalism' we saw here in Scotland in the press on coverage of Rangers pre-liquidation. Harry came close to describing the invidious way the British press shape, mould and distort society, public opinion and debate – feeding into and influencing TV broadcasting. And the role of Murdoch as a media pioneer who changed the print world in the 1970s and 1980s and did not play by the stuffy old British rules and codes is central to the past few decades.
Over this period the Royal Household have increasingly talked to the press on an off the record basis. A watershed was that of Michael Shea, the Queen's Press Secretary, who briefed the Andrew Neil edited Sunday Times in 1986 on the Queen's unease and disagreement with then Prime Minister Margaret Thatcher's position on South African apartheid and the issue of Commonwealth sanction. This led to the headline 'The African Queen' and Shea leaving Buckingham Palace the following year.
James Harding, ex-Times editor and now of Tortoise, takes the view that the practice of anonymous media briefings with an incessant drip of 'sources close to the Palace' says something revealing, and has been a major contribution to damaging the reputation of the royal family. He thinks it provides no clear line of accountability and no established voice of what the Palace says and thinks, while allowing for a feeding frenzy and making controversy in the media.
Then there is the issue of racism in the royals and wider society. The royal family have a long disreputable record of racism – not just historically, but in recent times with comments by Prince Philip and Prince Andrew as the most obvious examples. There is a wider denial of racism in British society. Take the Society of Editors whose head Ian Murray declared this week: 'The UK media is not bigoted' and went on to say it 'will not be swayed from its vital role holding the rich and powerful to account': which is just what the UK media does not do – with libel and defamation laws and ownership of the press in a few select rich and powerful hands.
Take a look at any number of Daily Mail and Daily Express front-page headlines on Meghan or asylum seekers and migration. Step forward a whole range of senior mainstream media figures who are happy to say this week that the royals are not racist and that it is not a serious issue for society: Jonathan Dimbleby (friend of Charles), Nicholas Witchell (notionally BBC Royal Correspondent), Jennie Bond, Piers Morgan, Andrew Pierce, Sarah Vine, Majesty magazine – the list sadly could go on and on.
In Scotland we have a bit less of this but are not immune. One Herald columnist – who is not a person of colour – thought it appropriate this week to write: 'I understand that for a white man to opine on alleged racism against a mixed-race woman is a minefield in itself. However I simply cannot equate the country which the Sussexes describe to the country in which I live.' Maybe this writer should get out a bit more – COVID restrictions not withstanding – for this is a country where people die due to racism, are assaulted due to racism, and suffer prejudice, bigotry and discrimination due to racism.
Another Herald columnist last year described on the BBC Scotland The Nine the newspaper headline 'Straight Outta Compton' about Meghan – which invoked the iconic NWA (Niggaz Wit Attitudes) rap album as not racist, and then compounded it by telling a young black woman in the TV studio what was and was not racist in his supposed liberal and enlightened view. So we are not exactly without our own denials and silence, with too many white people in positions of influence and power telling us that there is not any problem.
Living in the Old Country of Britain
Some of the Harry and Meghan controversy undoubtedly feels like a diversion. The excessive, frothing wall-to-wall coverage of the press the day after the programme aired on ITV is part of a deeply dysfunctional set of relationships – and part of the problem.
But then the UK royal family is a deeply dysfunctional institution at the top of a profoundly dysfunctional, damaged and corrupted political system and state. This is a state where we the people are not even citizens in our own land. Rather we are mere subjects, and hence spectators and passive on-lookers in a country which is not even a fully-fledged democracy.
In recent weeks before this latest set of headlines The Guardian revealed the extent of the use of a little-known parliamentary convention called Queen's Consent which requires ministers to alert the monarch when legislation may affect the interests of the Crown. This is the means by which the Queen and royal family keep large parts of their interests – such as the Queen's ownership of shares in private companies from public knowledge, while Charles prevented tenants on his Duchy of Cornwall estate from using the law to be able to buy the properties they were living in.
What is the point of the royal family? Who does it really serve? And on what terms can it be said to be a success and something we should all be proud of? Rather we should be asking who is it actually a success for and, as we come to the twilight years of Queen Elizabeth, ask what is the point of this whole unedifying institution and relic?
What it serves is something fundamentally anachronistic, damaging and reactionary. It maintains the stranglehold that the UK is not a modern country, but one looking backward and paying homage to feudality and hereditary privilege – which is not a country confidently looking to the future believing it has the confidence to govern itself.
It is in short the manifestation of in Patrick Wright's memorable phrase 'living in an old country'. Increasingly our stark choice seems to be between a future where this goes into hyperdrive, and post-COVID the UK and we are reduced to life in a Disneyland style theme park serving global tourists from the Americas and China; or we take ownership and responsibility of the country we live in and dare to practice and embody home rule on our own terms.