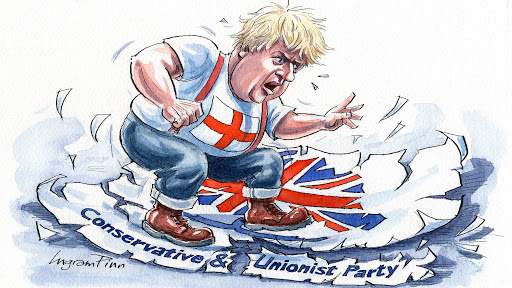 The political and moral collapse of the Conservative Party, conservative thinking and unionism
Gerry Hassan
Sunday National, September 20th 2020
The clue is meant to be in the name – the Conservative and Unionist Party. The Unionist moniker may refer first and foremost to the union with Ireland, but has a wider meaning in relation to the union that makes up the United Kingdom.
Tory unionism has historically gone to the core of the party's DNA. At its peak – electorally and instinctually – between the 1920s and end of the 1950s, it gave voice to a politics that could claim to champion the diversity and nationalism of the four nations of the UK.
It stood for England, while recognising that English insensitivities could rub up against and alienate the three other nations. It understood the meaning of the local, of tradition and history; of the limits of the state and the dangers of ministers intervening in far-off places they knew little of, and was wary of centralisation and standardisation.
In terms of Scotland, Tory unionism understood that unionism and nationalism were not complete opposites. Scottish unionism knew that it could adapt and coat its arguments with a nationalism which stood unashamedly for autonomy and distinctiveness – while stressing this could be preserved, even celebrated, in the union as it was.
The period after Labour's landslide in 1945 to the late 1950s was the high point of this Toryism. It gave us Winston Churchill railing against overbearing centralisation in Scotland, the Tories giving support to John MacCormick as the National Covenant backed candidate in the Paisley by-election in 1948 (which helped sour Labour's view of home rule), and won three elections in a row in Scotland in the popular vote in 1951, 1955, 1959.
It appears ridiculous from today's vantage point but Tory unionists believed that they could invoke the great moments of Scotland's past – Bannockburn, Bruce, the Declaration of Arbroath – as staging posts to becoming a nation which then had the status to create the union of 1707.
Today Tory unionism sees itself as set apart from Scottish nationalism, and the latter as completely synonymous with independence. Unionism has consciously vacated the ground that gave it part of its strength and instead given it to its main opponents. More than the poll tax, Ravenscraig, and ten years of recent austerity – this is one of the greatest factors in the shrivelled state of unionism today.
The common argument is that the Tory collapse into populism, incompetence and lawbreaking is the product of recent factors such as Brexit, Boris Johnson and Dominic Cummings. But these have arisen and been validated by long-term and fundamental trends which are much more difficult to reverse.
David Cameron's announcement on the steps of Downing Street – a mere nine hours after polling stations had closed in the 2014 referendum – that after hearing from Scotland it was time to hear from England, was one important point in the self-destruction of Toryism and unionism.
Yet the decline – and the moral, political and ethical hollowing out – leading to 19 September 2014 was long and painful and littered with numerous factors and influences. There was the demise of the British Empire, a post-war Britain unable to shake free of its past and embrace a new post-imperial future, and the continually ambivalent relationship with Europe which predated Brexit and saw the UK refuse to join the EEC when it was first established in 1957. Then there was the obsession ongoing to this day with the so called 'special relationship' with the US – and Harold Macmillan's conceit that the UK could be 'Greeks in this American Empire' with the US cast as Rome.
As well as how the UK saw itself internationally there was the changing nature of British society. Tradition, authority and deference all declined as was the unquestioned role of the British establishment – church, armed force, BBC – while the very idea of a United Kingdom itself began to fragment from the mid-1960s onwards with the rise of distinctive movements in Scotland, Wales and Northern Ireland. Hence the forces which had given sustenance to both a high unionism, and an everyday unionism which permeated most of society, have long lost the allure they once had.
This week we have seen a Tory unionism and right-wing politics which does not know its own basic scripts. Boris Johnson at Prime Minister's Questions said in reply to Ian Blackford talking of devolution and the 2014 independence vote that: 'There has been a massive devolution of powers to Scotland and the Scottish people had the opportunity to vote for more in 2014 in a once in a generation event …' This is not how Johnson is meant to frame independence from his side – as the continuation of devolution. And he forgot that No in 2014 was meant to be about devolution and 'The Vow', illustrating how little he instinctually grasps the Scottish debate.
You might expect more from Malcolm Rifkind, a Tory grandee. But this week on BBC Newsnight he was in similar terrain describing why, if Scotland had a pro-independence majority in 2021, it still should not have an independence vote stating that: 'The Nationalists like to say Scotland voted for [and] Remain England nevertheless dragged us out of the EU. The fact is there were two major parts of the UK which voted Remain and didn't get what their way: one was Scotland and the other was London.' Thus he completely forgot an intrinsic part of the UK – Northern Ireland – the other part of the UK which voted Remain and which Brexiteers consistently forgot about in 2016 and since.
Take another case, namely how Brexit is talked about is often redolent of a wider intolerance and impatience with the modern world. Step forward Paul Caudwell, founder of Phones4U who gave £500,000 to the Tories in the 2019 election. On BBC Question Time this week he described Brexit as the fault of 'Brussels bully boys' who 'beat Theresa May black and blue' with not one person including presenter Fiona Bruce pulling him up. In the same programme his Manichean views of the world saw him say in relation to COVID-19: 'How deadly is this virus?'
Such views are now prevalent across conservative and right-wing opinion. After Joe Biden stood in defence of the Good Friday Agreement, Iain Martin, once editor of The Scotsman let forth declaring: 'Didn't think anyone or anything could make me want a Trump victory. Must say Joe Biden may have done it. Incredible cheek his anti-Britishness, when consider UK help/cooperation on security, intel, defence and fighting terrorism.'
One dynamic in the demise of Tory unionism is the increasing obsession with parliamentary sovereignty, that has come to be a near religious mantra. Tory peer Daniel Finkelstein this week identified a dividing line between parliamentary sovereignty centred on the rule of law and a sovereignty which thinks its powers are limitless in a domestic context. This irreconcilable difference between two versions of sovereignty is one Tories used to understand – presenting themselves as part of the former and socialist opponents as advocating the latter and an absolutist form of government which could overturn any law or convention.
The new Tory embrace of absolutism is a nightmare combination because it mixes with a lethal cocktail with class, entitlement politics and dogma. Finkelstein comments: 'This notion of crude sovereignty demands that Parliament be free to do anything it likes. Thus the decisions of judges, the deliberation of international bodies and the provisions of treaties are resented as intrusions into the freedom of Parliament.'
This is the death knoll of not just unionism but British conservatism as we have known it. It is in many respects a disorientating, bewildering moment – of opportunity and threat. British conservatism had all sorts of conceits, evasions and half-truths, but it was also at critical times a constraining force. Bereft of it – who knows after Nigel Farage, UKIP and the Brexit Party what ugly, intolerant foreboding forces will emerge on the uncompromising right?
Part of this will be about England and the tilting of the balance between English and British nationalism, as the right lurches towards the former and uses the latter as a cloak to invoke a reactionary and intolerant Englishness which is not very happy to be in a union with the Scots, Welsh and Northern Irish.
This point still causes all sorts of apoplexy in certain English liberal and left circles who have a deep-seated aversion to calling out English nationalism per se. They seem scared that once out this might be a beast they cannot control. It is already out. Not naming and talking about England has already proven a major aid to the right's capture of a part of England. What are Enoch Powell, Margaret Thatcher and Brexit but profound expressions of an English nationalism which masks itself in the flag and symbols of Britishness?
British conservatism's intellectual and political debasement has been a long time brewing but the inept politics of Cameron, May and Johnson, along with Brexit and COVID-19, have brought it to the fore. But the decline has been long and deep, masked by the built-in advantages of the Tories – a right-wing press, business support, huge financial backers, and an often inept Labour opposition who were even wary of making the political weather in thirteen years of Blair-Brown government.
The inadvertently hilarious recently published diaries of Sasha Swire, wife of Tory MP Hugo Swire who stood down in 2019, reveal in all their glory the vacuous world of Cameron, Osborne and Johnson. These people stand for nothing but thinking they have a divine right to rule; with Swire describing Johnson: 'Boris is, in many ways, an island, a spinning, mad island' and then describing this incestuous world of backbiting and desperate social and political climbing as: 'The governing class is simply holding up a mirror to a nation where friendships have replaced other mediums.'
This leaves the Tories seemingly convulsed by Brexit – what The Economist calls 'an inherently revolutionary project' – but really informed and fed by a backstory of repeated Tory and Labour failure to address the fundamental economic and social issues facing the UK while pretending otherwise.
They view the Tory future gloomily as former Prime Ministers, leaders and ministers turn their anger on Boris Johnson – a man who only won an emphatic election victory nine months ago. This is in The Economist's words 'the staple of revolutions: the eating of children' before concluding that: 'There will be plenty more Tory children eaten before this revolution has reached its conclusion.'
Tory convulsions will continue for the next few years – post-this stage of Brexit, post-Boris Johnson. This is the final funeral pyre of British conservatism, unionism and the Tory Party as we have known it, and tragically the emergence of an even more grotesque, intolerant and spiteful politics lacking humanity, grace and any semblance of honesty.
This poses a huge burden on all who are pro-Scottish independence, as this period when the British establishment and ruling elites are at their weakest will undoubtedly run until the next UK election. This is not the time for distractions or diversionary politics and gestures, but time to put every ounce and thought into the making of the coming independent Scotland: to winning the case for a referendum, winning that vote and making the future of our country.