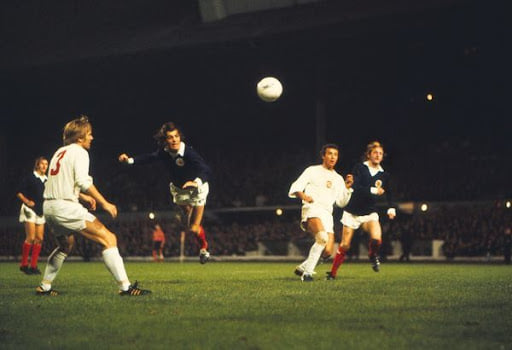 Falling in love with the Scotland football team again
Gerry Hassan
Scottish Review, 17 November 2021
Scotland are on the rise again. At least in terms of the men's national football team who are on a roll. They have qualified for the World Cup play-offs next year after winning six World Cup qualifiers in a row: something no Scotland team has ever done. And they have done this by convincingly beating Denmark, one of the best teams in Europe, in a 2-0 victory at Hampden.
A new spirit, sense of belief, camaraderie – and intelligent, skillful team football now infuses Steve Clarke's squad. This is a Scotland many of us have not seen on the football field for years and it reminds us why football and the men's national team matter, and how when things click and fall into place it can raise all of us.
Clarke has been two years and a half years in the job and his impact has been close to revolutionary. Not only have Scotland finished a group with 23 points and seven wins out of ten games: the best any team has achieved since Craig Brown qualified for the World Cup in France in 1998, it is the manner and style in which this has been done and the progress and future potential that it suggests.
This has become an impressive Scottish team. Not one that can just grind out a decent result against more skilled opponents, but rather one who can take the game to and dominate opponents. Under Clarke a new array of stars have been born. New talents have been unearthed such as Lyndon Dykes, Che Adams and Jacob Brown while we have witnessed the growth of such young stars as Billy Gilmour and Nathan Patterson, and the blossoming of John McGinn.
It does not stop there: with Andy Robertson's drive and leadership and the great story of John Souttar coming back from a career blighted by injury and showing what he can do. And the above are only a selection of the talent and skills available and wanting to play for Scotland.
This is one of many uplifting aspects of the Scotland men's team: the joy that success and ambition bring and how it produces the opposite from the long years of decline and mediocrity. These footballers want to play for Clarke and the national team, they want to play for each other, and they want to perform. It is a world of difference from the two decades plus of indifference, where in squad after squad, people pulled out at the last minute, said they were injured, or prematurely retired from the national team.
Scotland's long years in the wilderness look like they are coming to an end and that is irrespective of what happens in next year's World Cup play-offs. The past two decades since France 1998 have not been easy ones for the Tartan Army. A succession of managers have come and gone, and things got so bad on the football field that for many years the story of the Scottish team became almost exclusively that of the Tartan Army. This almost explicitly said that 'we know the football isn't that good and we are going nowhere, but at least our fans can have a good time and party.'
Scotland once regularly turned up at international tournaments. There were the World Cups of the 1950s which we can pass over, and then the joy of the five World Cups in a row from West Germany in 1974 and Argentina in 1978 to Italy in 1990, followed by the final World Cup of France in 1998. After that there was the long drought until Steve Clarke's team qualified for Euro 2020 (played in the summer of 2021 due to COVID).
Caledonian Dreaming and the Men's National Football Team
Those experiences defined many of us and made us connect, invest and dream of what the national team could do. And when the appearances at finals dried up some supporters turned away, others became less enthusiastic, and critically, a whole new generation of fans grew up for whom the men's national team was just an irrelevance. This is now changing again for the better.
Football provides collective memories, stories and folklores. I am just old enough to remember the Hampden night when the Scots beat Czechoslovakia 2-1 in September 1973 qualifying for the 1974 finals. Then there was the repeat meeting of the two in September 1977 with the latter now reigning European Champions, and the Scots winning convincingly 3-1: a game which took Ally MacLeod's talented team one step closer to Argentina 1978 (and the rest of which is well documented).
Those were games which ignited my love of football and the Scotland national team, that hooked me into following the World Cups that we qualified for, and even I have to admit it, leading to my support and love for Dundee United.
A similar pattern is happening now. For years I took young football fans to matches across the country to introduce them to the game, different grounds, experiences and the highs and lows. With some of them I was aware that the national team was just not on the radar: that it was an irrelevance, and for some that it had just 'hurt' and 'disappointed them too many times'. And then along came Steve Clarke's team.
The qualifying for Euro 2020 by the circuitous route of beating Serbia on penalties provided the first rekindling. One friend told me how after that result her young son opened his window and 'sang songs of celebration' to his street and neighbourhood; I totally and utterly understood that. And now that feeling of connection, collective stories and hope has been taken to a completely new level with the recent run and performances.
Broadcast News
Talking of memories and stories and how they feed into the Scotland that is a football nation a word has to be said about the role of media and broadcasters. Scotland's recent World Cup matches were missing from terrestrial TV. Instead ITV and STV here offered us the palate of all ten England group games live; every single Scotland game was only on offer on the likes of subscription platforms such as SKY Sports.
This is an indefensible situation which damages our national game. When I watched those legendary victories against Czechoslovakia in 1973 and 1977 I did not go to Hampden Park; I watched them live on terrestrial TV and because of this it became woven into our national conversation. The absence of the Scotland team now making waves and history deprives part of the country – and particularly many younger viewers – of having such evocative formative memories.
The STV chief executive Simon Pitts said recently to a House of Commons Scottish Affairs Committee that they just could not afford to bid against the likes of SKY for showing Scotland's football team matches live, stating: 'We share the frustration of the fans but it is the economics of how the rights have moved out of the reach of free-to-air broadcasters.' This is an understandable position. The next line of defence is that the SFA have to take what is the highest bidder to maximise income for the good of the game.
This really isn't good enough. Take the basics first. If STV put a package together to bid for Scotland's games – and let's be ambitious and imagine this was all ten qualifiers we have just experienced. Doing so would enhance STV's reputation, its national place in the media ecology, bring audiences to it, and drive up advertising revenue and create sponsorship opportunities.
Ten games with significant national audience and interest would involve some risk – but could gain a huge payback – and even work financially. This is a situation that STV's Pitts' even recognised, saying to the Scottish Affairs Committee about SKY having the current rights: 'We would love to share those games. It is precisely the crunch games you mention that give them [the rights owners] the return they seek.'
Look at the unedifying position at the moment. As Scotland's players make history, winning six in a row, turning in stellar performances, STV are showing and promoting England games, such as the recent non-event of their trouncing of San Marino. Given STV are not getting those games from the ITV network completely free, this means Scottish viewers are actually paying into and subsidising showing England matches. That really is a position that is indefensible in the long run and has to be addressed by TV and the football authorities.
Some people will think none of this really matters that much as it is only about football. Others will say that our national obsession with football is actually damaging and prevents us getting on with more serious things in life.
These are both valid points. But football has never ever been just about football. That is why it is the greatest sport humanity has ever invented – combining brilliant individual and collective team effort and skills.
Rather football is a tapestry which offers us a chance to dream, connect and believe in something bigger than ourselves. It is true that some passionate fans can take this too far. But overall Scottish football has provided a national and international story which has allowed us to see ourselves in a different light from the constraints of formal politics, power and the economy.
Football has in my adult lifetime offered the whole gambit of emotions – exhilaration, daring to dream the impossible, and feeling downcast and dejected, and then recognising that I am not alone in my feelings but part of a wider community and nation.
Steve Clarke and his team have done their bit. The fans have fallen in love with the men's national team again. A whole new pantheon of heroes and special memories have been born. Is it too much to ask our national broadcasters and the SFA to sort out the current ridiculous situation and return our national team to our screens?