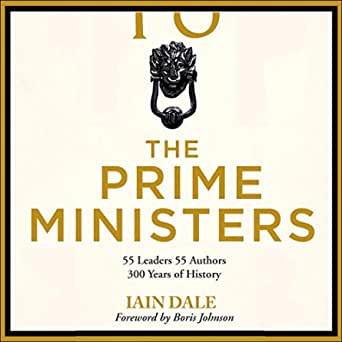 We need to know our history: The rise and fall of the British Prime Minister
Gerry Hassan
Scottish Review, November 11th 2020
Leadership is one of the mantras of the modern age, and no more so than in politics. National leadership – and success (and conversely failure) – is endlessly analysed. Is Boris Johnson in irretrievable decline and was he ever right for the job? Can Nicola Sturgeon maintain the level of popularity of herself and the SNP to the 2021 elections? And does anyone remember the Lib Dems and who their leader is? (answer: Ed Davey).
The new book The Prime Ministers edited by broadcaster and writer Iain Dale is a comprehensive study of the 55 UK Prime Ministers from Robert Walpole to Boris Johnson. It is an in-depth volume and valuable contribution at a time of uncertainty domestically and internationally, aided by the wealth and breadth of its contributors including former deputy leader of Labour Roy Hattersley on Palmerston, former Tory minister Nicky Morgan on Lord North, Labour frontbencher Rachel Reeves on Harold Wilson, David Campbell Bannerman on his uncle – with myself on Earl Grey, architect of the Great Reform Act of 1832.
The post of UK Prime Minister, like much about the UK, has slowly evolved and emerged. It was not given formal recognition until 1905 and to this day its political and legal responsibilities are not fully laid out. It is more or less the gathering of ad hoc powers, the cumulative mentioning of the Prime Minister in legislation – with still no Office of the Prime Minister.
The wider context of the office has changed over time. Walpole was the first Prime Minister to enter and govern from Downing Street in 1735. There was the rise of the professional civil service in Victorian times; the emergence of special advisers as state and government became more complex initiated by Harold Wilson in 1964. And there was the communications overhaul of Downing Street to reflect the importance of the media and public relations. Wilson was a trailblazer in this – Thatcher give authority to Bernard Ingham, Blair created Alastair Campbell, and now with Johnson we have Allegra Stratton.
The role of the Cabinet has similarly evolved in a haphazard way. Across the arc of this study we can witness its emergence, rise and fall. When was the apex of UK Cabinet Government? Potentially between 1940 and the onset of Churchill's government and 1976 and the Callaghan IMF crisis. Today not only has the status of Cabinet government taken repeated hits from the likes of Thatcher and Blair, it has become bypassed by how the Prime Minister and Downing Street see statecraft. There is the marked decline in the power and prestige of individual ministers. Once upon a time under Wilson or Thatcher significant politicians with national recognition ran departments, such as Tony Benn and Michael Heseltine; now we are reduced to political pygmies such as Oliver Dowden (Culture) and Grant Shapps (Transport) to name but two.
The slow imperfect march to democracy in Britain
One of the most significant relationships is between Prime Minister and monarch. It is the latter who appoints the former, and the government governs in her or his name: Her Majesty's Government. The Crown exists at the centre of power in the UK: a point underlined by the Netflix series covering the life of Queen Elizabeth, and it is an institution with potent power, connections, and critically, historical memory which puts it at an advantage compared to the fleeting appearance of individual Prime Ministers.
The slow march of democracy in the UK is another factor that has changed the role of Prime Minister. The emergence of political parties which became structured and organised inside and outside Parliament dramatically altered politics. Prime Ministers now have to sit in the Commons and command a parliamentary majority, but this never used to be so clear cut. Many of the holders of the office sat and governed from the Lords: the Earl of Liverpool doing so for fourteen years, and the last Lords Prime Minister being the Marquess of Salisbury (1895-1902). Two moments defined the shift – one of huge historic importance, with Halifax realising in the summer of 1940 that he could not lead the country from the Lords clearing the way for Churchill; and with Alec Douglas Home renouncing his title in 1963, re-entering the Commons via a by-election to become Prime Minister, then losing the 1964 election narrowly to Wilson.
The above examples show how late (and incomplete) democracy came to the corridors of the British establishment and in particular the Tories. Tory leaders were not elected until 1965 and before that, when the party was in office, the leader emerged by a process which saw leading Tory lights taking soundings and then feeding this to the Crown. This produced Churchill in 1940, but increasingly in the Tory thirteen years of 1951-64 and a more assertive, less deferential society, it came to be an indefensible anachronism displaying all that was wrong with Britain at the top.
Hence in 1957 and 1963 the informal channels of Tory grandees – 'the magic circle' – led to the appointment of first Macmillan and then Home. By 1963 this was an obvious class of cultures which drew the Palace into politics and controversy. Iain Macleod, then editor of The Spectator wrote about this 'magic circle' of senior Tories who held the fate of the country in their hands; with of these nine male politicians, eight having gone to Eton, noting that was no longer defensible.
The Prime Ministers is a rich tapestry of people and history although, aided by Andrew Blick's excellent overview of the role and its context at the start. Prime Ministers are not a representative class with 53 men and two women having hold office. Forty-four of the 55 were born in England (80%), seven in Scotland (13%), two in Ireland (4%) – with none from Wales. Although Lloyd George died in Wales, he was not born there. Two were born overseas – Bonar Law having been born in New Brunswick which is now part of Canada, and Boris Johnson in New York.
The educational background of Prime Ministers paints a picture far from meritocracy. A mere ten out of 55 (18%) went to non-fee paying schools – although in recent times this includes Wilson, Heath, Callaghan, Thatcher, Major and Brown. A staggering twenty went to one school: Eton College (36%), seven going to Harrow (13%) and six to Westminster School (11%). As for universities: 28 went to Oxford (51%), 14 to Cambridge (25%), three each to Edinburgh and Glasgow (5%), and eight did not go to university (15%): the most recent being Jim Callaghan and John Major.
Some of the contributors particularly of recent Prime Ministers have a good feel for the person: Stewart Wood who worked for Gordon Brown in Downing Street conveys the many layers and tensions within the man; Andrew Adonis gives a decent overview of the Blair era, pithily offering this observation: 'In Iraq, Blair wanted his Falklands but got his Suez'; while Julia Langdon gets into the person that was behind the image that was Thatcher – although she does overstate matters claiming that Thatcher was passionate to bring about 'an end' to 'apartheid in South Africa'.
There has been a precipitous decline in the quality of Prime Ministers over the arc of the post-1945 era. We have to ask is it permanent or something which can be reversed? If it is tied to the emergence of a professional, career-focused political class, can its shortcomings be over-turned? Or is our current version of insider politics and insider dealing the look of the present and future?
The last three (including one still current) Tory Prime Ministers – Cameron, May, Johnson – have not been successful leaders and are lessons in profound failure that has cost the UK dearly. Cameron – typical of some of his class, privilege and gender – thought he could do the job effortlessly; May was an accidental leader born of Brexit and ill-suited to the modern age; while Johnson is emblematic of an older and sadly still contemporary entitlement culture of an elite who believe they are born to rule.
Boris Johnson's chapter is written by Iain Dale and is a judgement in progress, but his assessment that 'he's the most intellectually capable Prime Minister Britain has seen, despite often appearing to be a clown' is contentious. Having a background as a classics scholar does not translate into being the most 'intellectually capable', and in terms of ideas, curiosity and drive, in recent decades, Wilson and Thatcher would stand as his superior. Johnson believes in his own superiority to the detriment of his own judgement.
Johnson's rambling parliamentary appearances hark back to an earlier age of Tory clubland and 'magic circles'. This week Johnson spoke at a COVID-19 briefing of 'tooting' and 'bugles': the language of a Britain and England long in the past, causing commentator David Aaronovitch to observe: 'You have to admire Boris Johnson's willful determination to speak a language that no one under 50 is at all likely to understand. Who comes over what hill? Why is a bugle tooted? Who knows but him, me and a few Telegraph readers?' This is without mentioning the racism, Islamophobia, and serial lying. Johnson's emergence – part born of Tory desperation over Brexit – is a low point for the post and party.
The long descent of Tory Prime Ministers – Cameron, May, Johnson – is part about character and part about circumstances, but there is a deeper backstory which will have long lasting impact. This is the nature of the Tory tribe. These are people who now elect the Tory leader and select MPs. The Tory Party is not only unrepresentative, ageing, uber-middle class and white, it is declining and dying – seen in some of the recent UK elections with a lack of activists doing the leg-work that sustains and reproduces parties. The cumulative effect of this is damaging. Sasha Swire, wife of former Tory MP for East Devon and minister Hugo Swire, has just published her diaries and they offer an insight into the inner Tory world from locally to the top. Swire writes of her local party: 'They hate in, equal measure: foreigners, Europe, defence cuts, gay marriage, Liberals, the BBC, Germans, the Japanese, the coalition and garlic.' These are the people who shape the Tory Party and choose its leader.
Know Your History or Watch Out!
This is a timely study of UK Prime Ministers and Iain Dale has done the subject a great service with this measured and thoughtful labour of love which offers a fascinating set of insights into the history of Britain, politics, the role of Prime Minister, and elite and establishment power.
There are many issues which spring from its wealth of observations. One which I have recently begun to ruminate on is how little beyond the mantras and myths the UK knows its own history. The UK's progress towards becoming a political democracy is one celebrated in history books and culture but has been hesitant and incomplete. This is one of the backdrops to this study: that one person one vote was only introduced, not in 1918 or 1928 but, in 1949 with the abolition of plural voting; or that the British Empire and concept of 'colonies' only ended on 1 January 1983 with the Nationality Act 1981 coming into force.
You need to know your history to act in the present, to know how perilous and temporary democracy and human rights always are. The US and the endgame of the Trump Presidency are but the latest example of this; the refusal of Trump and Republicans to respect democracy is a warning to all of us. Previous disastrous Presidential transitions saw James Buchanan's defeat in 1860 at the hands of Abraham Lincoln lead to the American civil war, and Herbert Hoover act to thwart Franklin D. Roosevelt in 1932-33 as economic storm clouds gathered.
No one is saying that the current American stand-off and right-wing denial of the will of the people is coming to the UK in the same way. But we do live in disputatious and divided times – Brexit, Scottish independence, the role of dirty and dark money in right-wing think tanks and public life – and we cannot ever afford to be complacent. It is critical to know and understand the tapestry of politics and power and struggle in Britain, and this book is a superb guide to the times we have lived through and are living in.
The Prime Ministers: 55 Leaders, 55 Authors, 300 Years of History, edited by Iain Dale, Hodder & Stoughton, £25.