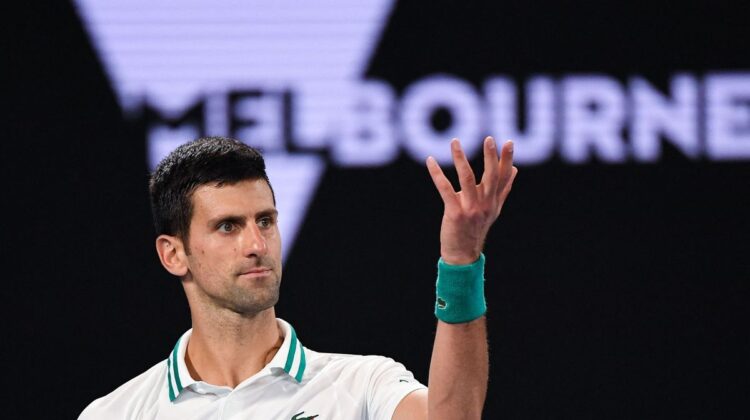 Novak Djokovic, the Celebrity Class and the End of News
Gerry Hassan
Scottish Review, 12 January 2022
The start of the new year brings the prospect of fresh perspectives but not it seems in the world of mainstream news.
Across nearly all news outlets, and in particular TV and radio broadcasters, the main story for the past week globally has not been the Trump insurrection anniversary and US democracy hanging in the balance, or the Russian invasion and violence in Kazakhstan. It has not even been the ongoing domestic scandal of UK PM Boris Johnson's continued evasions and refusal to tell the truth on the multiple parties in Downing Street as the country experienced COVID lockdown – at least until the latest revelations of Johnson's double standards.
Rather the main story given wall-to-wall coverage has been the trials and tribulations of the Serbian born tennis player Novak Djovokic – the number one player in the world – and his difficulties getting into Australia to defend his Australian Open title.
Djovokic flew to Australia last Wednesday as one of a handful of players given a medical exemption from mandatory COVID vaccination by Tennis Australia and the Victoria state government. Stopped at Melbourne Airport, Australian Border Force Police questioned him and declared that his exemption did not meet the criteria for an unvaxed traveller.
This led to his visa being cancelled, Djovokic being detained at the airport and then at a hotel. Djovokic's lawyers appealed the decision, the case being heard on Monday past, and the tennis star was given a reprieve to stay in the country by the Federal Circuit and Family Court in Melbourne. It is however within the remit of the Australian Government to overturn this judgement and deport him.
Djovokic is not COVID vaccinated. Not only that he has apparently twice had COVID – the last occasion on which he was tested being 16 December 2021 when he was photographed at various events including receiving Serbian postage stamps in his honour, and did not appear to be taking any special precautions at the time.
Over the course of the COVID pandemic Australia has put stringent lockdown and entry requirements to the country in place. Many Australians have therefore been unable to travel abroad to occasions such as births, deaths and marriages; similarly many Australians have at points been unable to get home because of the severe restrictions – missing things which are more important than an international tennis tournament.
Novak Djokovic has thus become a cause celeb for some and an international villain for others. COVID anti-vaxxers have championed the Serbian tennis player, protesting outside the Melbourne hotel where Djokovic was held alongside other asylum seekers and refugees which they claimed was not fitting for the tennis world's number one.
Protestors gathered in Belgrade, capital of Serbia, claiming victimisation of national hero Djokovic and the world's most famous living Serbian. The national airline even has an airplane named after him. The Serbian President Aleksandar Vučić lashed out at a 'political witch-hunt', while the Djokovic family held rallies and press conferences – claiming that the tennis player was not being properly fed and subject to 'torture' in Australia.
If Djokovic did not already have enough allies and supporters, step forward man of the moment Nigel Farage who at the onset of the crisis flew to Belgrade to be with the family and show the depth of his support and solidarity for their cause. Farage railed against the Australian authorities and their discriminatory attitude, stating: 'If they can do this to the world's no one tennis player, just think what they could do to you.'
Farage faced criticism from numerous sides including Scottish tennis player Andy Murray who accused him of hypocrisy – saying he looked forward to the point where Farage told the Djokovic family about his previous causes: 'Please record the awkward moment when you tell them you've spent most of your career campaigning to have people from Eastern Europe deported.' Farage responded – clearly furious: 'Dear Andy, you clearly don't understand politics or the Brexit campaign but are filled with prejudice. Concentrate on the tennis, and, a word of advice, crack a smile every now and then.'
Many others were dismayed – two years into this pandemic – where so many have made sacrifices and yet it has become increasingly apparent that certain privileged people think that they can do what they like.
This is a story and saga with repercussions way beyond the world of tennis. The lesson according to Steven Reicher of St Andrews University and the government advisory SAGE Group is that there is 'one rule for them, one rule for us.' This is true but the Djokovic controversy goes much further than that.
'What's worse than an anti-vaxxer in a pandemic?' asked Lindsay Crouse in the New York Times and answered: 'An anti-vaccine star athlete. That paragon of physical health, cloaked in a cape of defiance, declares to world by example that you don't have to follow public health policy after all – as long as you win'.
The world of Novak Djokovic and the super-rich
The world we live in is shaped by an elite class who think they have the right, a special dispensation to do and act as they like – as if they almost have a feudal entitlement to live and lord over us telling us how unique and wonderful their lives are at every opportunity.
Every day we see such behaviour – whether the privileged, ridiculously over-paid professional sports figures, pampered rich millionaires and billionaires, or the world of the celebrity class. Novak Djokovic has earned $154 million from tennis wins – the highest of any tennis player man or woman ever; plus all the additional wealth from corporate endorsements and sponsorships which come with this level of sporting achievement.
Such monies, success and fame are seen by some as a way of being agents for social change and decency in the world – think of Manchester United player Marcus Rashford and his campaigns on free school meals.
But such excesses of success have not in the case of Djokovic produced someone who is a better human being, but somebody who thinks he has free rein even in the midst of a murderous pandemic and can avoid any negative consequences. This reflects the trend of star power where individuals flout regulations, whether the PR rules of their sport tournaments or public health regulations in a pandemic.
The damage that this self-important, self-obsessed class of bloviators do to humanity, compassion and our sense of looking out for each other is profound. It is a world view obsessed with winners, with the global 0.1% and their excesses, with the billionaire so-called 'space race' and the egotistical fantasies of prolonging life expectancy and even leaving earth and the mess we have made of it to find some escape in the stars.
The culture that all that matters is winning has become a religion of professional sport. We can see it in the sad attitudes of lots of football fans across the world who rather than support and go and give encouragement to their local team identify with a team which has morphed into a 'global brand' such as Manchester United (who have not been that successful in recent years in the post-Alex Ferguson era), Liverpool, Barcelona, Real Madrid, and AC Milan to name but a few.
And then there is the moral debasement of Newcastle United fans who used to protest against club ownership by Mike Ashley and Sports Direct seeing him an unethical custodian of their cherished club. Along came the Saudi Arabia Public Investment Fund fronting one of the most murderous, repressive regimes on earth who were welcomed them with open arms because of the size of their check book. Even by the grotesque standards of the English Premiership where anyone anywhere in the world can own a football club this was a new tawdry low.
There is no mandatory programme to vaccinate Premiership players – and on some estimates at least 10% of players in the most wealthy league in the world remain unvaxed. This astounding dereliction of duty by the football authorities led Jurgen Klopp, Liverpool manager, to observe: 'The whole vaccination thing for me is a massive question of solidarity, loyalty and togetherness.'
The Decline of News
There is also the issue of the mainstream media. No doubt it can be argued that they just follow trends and fashions but there was something nauseating in the incessant coverage of Novak Djokovic and his family. It says much about the state of broadcast news, the hollowing out of newsroom expertise, and the desperate search for ratings – which often seems to mean pitching news to people with no interest in it.
This is the tabloidisation and trivalisation of what counts as news, and the events of the past week are not an isolated or unusual occurrence. What this does is diminish our common humanity, our connectedness, empathy for our fellow human beings, and instead foster a culture and outlook where what matters is fame, wealth and success and the attitude that if you are all these things you can do what you like.
The cumulative effect of this is a shrinking of humanity and the infantilisation of us as citizens the world over – reducing us to passive spectators watching from afar in awe at the great endeavours of the rich and privileged – and hence contributing to making us feel collectively powerless.
It does not have to be this way, particularly in the midst of a murderous pandemic which is clearly not over. When will print media and broadcasters learn that the never-ending diet of the pampered famous and celebrities comes at a fatal cost by reducing the complexities and emotions of what it is to be human every day?
Just as germane, when will the public realise that we do not need to live as voyeurs looking through the window at the carefully manicured selective version of the lives of the elites – and that we do not need to give them validation and importance? And can we find the moral compass and judgement to have better heroes and inspirations than the likes of Novak Djokovic?