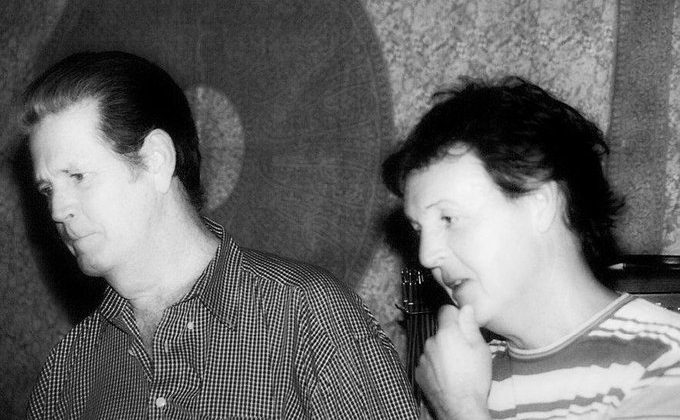 When music could make the future: The legacy of Brian Wilson and Paul McCartney
Gerry Hassan
Scottish Review, June 17th 2020
Music is pivotal to what it is to be human. It is part of our universal language and connected to how we live, breathe and at a fundamental level the rhythm of the human heart.
A world without music would seem to be missing part of the human spirit – and to an extent the current COVID-19 pandemic seemed like the day the music stopped. Concerts big and small, festivals corporate and local, records shops and many new releases were all cancelled in the lockdown. But music finds a way and numerous artists have found new means to share and promote music and have virtual concerts and sets.
This week sees the birthdays of two of the greatest musical icons we have ever seen. I am not one who likes to throw around the term 'genius' and think that 'musical genius' has been sprayed around too liberally in recent decades. However two survivors of the 1960s, and of two of the greatest bands of all time, both turn 78 within two days of one another –Paul McCartney on Thursday, and Brian Wilson on Saturday.
Paul McCartney has been with me for as long as I can remember. One of my earliest fully formed memories is of at age six hearing on the radio that the Beatles were splitting up. This was April 1970 and McCartney had just called time on the dream of the Beatles and the sixties by announcing he was leaving the group; I am leaving aside the fact we latter learned that Lennon had already said privately he was finished with the band.
McCartney's surprise announcement was like a rocket exploding the hopes of millions who had grown up with the Beatles music. I remember being visibly affected by the reality that there was a lot of emotion, upset and anger about, and that much of it was directed at McCartney which seemed a little hard. This made me feel sympathy for McCartney and from an early age made me a Paul fan; later I became a John fan too, then even a George and Ringo one, in smaller doses, and beyond that later a Yoko fan as well.
My journey to Brian Wilson took longer. From an early age I loved the big Beach Boys hits and then when Pet Sounds was rereleased in 1990 I bought and adored it. But my real immersion began when I started exploring the albums after Pet Sounds and released between 1967 and 1973, got and listened to my first SMiLE bootleg – the unreleased and unfinished Brian magnum opus which was meant to follow Pet Sounds in 1967, and became a major Beach Boys and Brian Wilson fan.
Getting into the Beach Boys for those who don't know the story beyond the surf and hot rod images evoked in their early hits involves understanding a complex history. The original band were made up of three brothers – Brian, Carl, Dennis – their cousin Mike Love and friend Al Jardine, while their manager in the early, breakthrough days was Murray Wilson, the abusive father of the three Wilson brothers.
Brian Wilson was the main creative force, composer and visionary who moulded the unique sound of the Beach Boys – the combination of heavenly voices with evocative melodies, stunningly original arrangements and orchestrations on seminal tracks like 'God Only Knows' (McCartney's favourite single song of all-time), 'Good Vibrations' and 'Heroes and Villains' to name but three.
Wilson's musical canvas was capable of capturing uplifting optimism and never-ending possibilities, as well as a deep melancholy and loss in pieces such as 'The Warmth of the Sun' written in the wake of the assassination of JFK or, when his personal troubles got the better of him, the exquisite ''Til I Die' on the Surf's Up album about the fragility of the human condition – and of course himself.
Wilson was the main composer but usually turned to others for inspiration on lyrics such as 'Good Vibrations' with Mike Love, 'God Only Knows' and all of the Pet Sounds album with Tony Asher; and 'Surf's Up' and 'Heroes and Villains' along with most of the SMiLE project with Van Dyke Parks.
As the Beach Boys became more successful in the early 1960s the pressures on them from a record industry wanting instant product intensified. This was added to by Brian's fragile character which had not been helped by his physically and emotionally abusive father Murray who drove them on initially, but increasingly undermined their belief in themselves, and particularly of Brian in his own talent.
In late 1964 on a flight to Houston with the band Brian had a panic attack and felt that he wanted to stop touring and concentrate on working in the studio and recording which the rest of the group reluctantly agreed to. This was the beginning of Brian experimenting to find the perfect studio sound and arrangements; the 'wall of sound' of Phil Spector being a major influence and obsession with him.
This studio/live performance split accentuated the fissure in the band, with Brian playing with some of the greatest session musicians of the age (such as Hal Blaine and the Wrecking Crew), hanging out with creative and counter-cultural types, and taking various drugs, including LSD. This affected his fragile sense of self, leading to him hearing malignant voices in his head which he never has been able to stop to this day but instead has learnt to manage.
All of this climaxed during 1966-67. Pet Sounds came out in May 1966 and Brian continued on his path of self-discovery and exploration musically, with 'Good Vibrations' released in October – a precursor to SMiLE, Brian's 'teenage symphony to God'. But the combination of his drug taking, burgeoning mental health issues, pressure from the record company, and division in the band between Brian and Mike Love, who wanted to stick to the formula, all derailed SMiLE. Love undermined the entire project and any attempts to leave behind the clichés of singing about girls and hot rods – an attitude and resentment he has carried to the present.
The Beach Boys and Beatles in the period 1965-66 influenced each other, having mutual respect and rivalry. Rubber Soul had been a major influence on Brian; Pet Sounds had bowled over McCartney and Lennon, with the former using it as a catalyst to create Sgt. Pepper. Brian saw SMiLE as topping Revolver, but all the pressures above combined to it being famously cancelled in the summer of 1967.
This, one of the most calamitous moments in Brian's adult life, contributed to his problems, his retreat from public and loss of creative confidence and leadership in the band, while the group's commercial popularity nose-dived in the US.
SMiLE unreleased became myth and legend, with parts of it released, but in a story which defies belief Brian recovered and 37 years after the event completed and released SMiLE in 2004 to widespread acclaim. It was, and is, a thing of intricate delicacy, harmonies and beauty: a symphony beyond the confines of pop and rock, which is the equal and better of Sgt. Pepper – both of that specific period of 1966-67 and yet timeless.
Brian's two autobiographies – the first written and controlled by his 'therapist' Eugene Landy and published in 1991; and the second 'I am Brian Wilson' came out a few years ago and although ghost-written speaks in his authentic voice. The second showcases how much music matters to Brian, how much he takes joy from the musical wonders he created through the decades, but also the pain, hell and doubt he has gone through. And yet despite all of his troubles, remarkably, he came back and enjoyed a contemporary renaissance and rebirth.
Brian's resurrection has several factors. The first was his relationship to Melinda Ledbetter who became his second wife. The second was his escape – which Melinda played a major role in – from the tyranny of control his 'therapist' Eugene Landy imposed on him across nearly every aspect of his life from who he saw, to what medication he took, what he ate, and even seeing himself as the creative equal and partner of Brian in music and other ventures.
Around 1999-2000 Brian put together a young band who loved his work, started playing live, put out a stunning live album, Brian Wilson Live at the Roxy Theatre in 2000 recorded in a small intimate venue and showcasing some of the big hits and numerous deep cuts, then began touring and never really looked back.
I saw him live for the first time at Glasgow's Armadillo in January 2002, the first date of his UK tour and then subsequently on several tours, including when he completed the legendary SMiLE album in 2004. The first Glasgow date was an unbelievable experience – to see Brian with all his obvious fragilities bathe in the warmth of the recreation of some of his greatest music and back catalogue beyond the obvious hits was life-affirming and joyous.
Reading his most recent autobiography is a moving and affirming experience. Brian comes over as someone who can hardly believe the life he has lived – personally, emotionally and musically. Yet he comes across as humble, with huge degrees of self-awareness and understanding of the foibles of what it is to be human – whether it be himself, his Beach Boy band mates, or family.
It is hardly surprising that Paul McCartney makes several appearances in I am Brian Wilson considering the mutual admiration the two have had for each other since the mid-1960s. Brian and Paul were the bass players in their respective bands and the ones with the most acute sense of melody, which has never left either as they have grown older.
Related to this both have enjoyed long running Indian summers – with McCartney putting out a series of solo albums from Flaming Pie in 1997 onward which towered above all but the best of his post-Beatles work; while Wilson's live touring and post-SMiLE music saw him create another tribute to California and the American myth – That Lucky Old Sun in 2008 clearly connected theme-wise to the 1960s album.
McCartney has had a blessed life compared to the tribulations Wilson has been through. What McCartney has managed to achieve through all his career – the Beatles, Wings, the solo years and the long veneration of his most creative years, is a sense of being grounded and very human. In this respect, there are connections with Wilson – of feeling blessed and lucky and not quite able to comprehend the life and achievements one has had – which is no bad thing.
Both McCartney and Wilson can be seen as a warning about what the self-appointed arbiters of taste think at any given moment. McCartney in the debris post-Beatles was viewed by Rolling Stone and others as the 'uncool' and 'square' one, and albums such as Ram dismissed as lightweight. Similarly, the Beach Boys post-SMiLE cancellation were dismissed by the counter-culture, and albums such as Friends seen as slight, even irrelevant. Today those self-same critics laud Ram and Friends as audacious statements of simplicity and harbingers of the indie lo-fi sound beloved of many contemporary musical acts.
The differences between Wilson and McCartney beyond the obvious include the degree of emotional honesty Wilson has unveiled about himself – a terrain McCartney has left relatively untouched. Wilson's music has often worn its heart on its sleeve in earlier songs such as 'I'm Bugged at My Ol' Man' from 1965 which addresses his relationship with his abusive father, while 'I Just Wasn't Made for These Times' from the following year's Pet Sounds shows Brian's self-doubt and anxieties about himself.
Critics have often used the charge against McCartney that he has seldom wanted to write about himself, but when he has – as in 'Dear Friend' on 1971's Wild Life addressing his feud with John Lennon or 'Here Today' in 1982 on his inconsolable loss after the killing of Lennon, the results have been inspiring.
Brian Wilson and Paul McCartney have crammed so much into their lives creatively and given us so many majestic music moments that it is damning to note that we did not always appreciate them the way we do now. They defined the golden era of pop music when its boundaries and potential seemed almost limitless, and in the long aftermath from the 1960s, kept on going, pushing themselves and looking to create new music.
In an age which, pre-COVID-19, was defined by conservatism and regurgitating the past, we should look to these musical pioneers not out of nostalgia but as an example and inspiration of a time when music mattered and believed it could create new soundscapes. Where are the Paul McCartneys and Brian Wilsons of today and, considering the pressures and constraints on younger people, is that even possible?