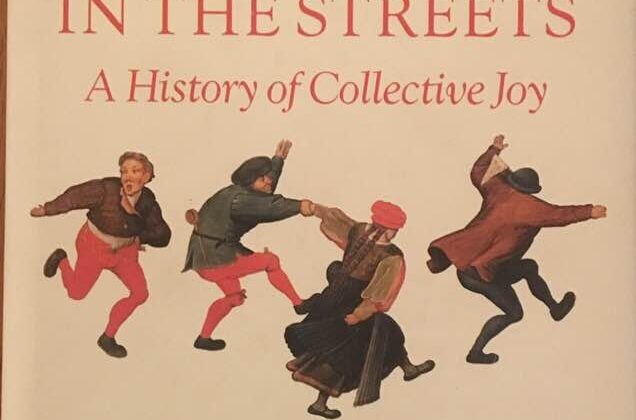 More than ever we need to come together and celebrate collective joy
Gerry Hassan
Sunday National, December 27th 2020
These are not exactly the happiest of times the world over – with crises, worry and anxiety all around us. In such circumstances never more have we needed to find light and hope, optimism and joy. As important in an age of loneliness and isolation is reaching out to others, recognising that we are more than mere individuals and are part of something bigger than ourselves – whether it be different communities and places.
Over a decade ago the American writer Barbara Ehrenreich published a book called: Dancing in the Streets: A History of Collective Joy. In it she defined the term 'collective joy' to mean people coming together in a mass or collective to celebrate what united them – cultural, sport or political. Classic examples she identified included the Brazilian Carnival, first rock festivals, and Gay Pride marches, while a sporting example would be the rise and fall of 'the Mexican wave' at football marches which came to prominence in the 1986 World Cup in Mexico.
Collective joy, observed Ehrenreich, draws from a sense of ritual and carnival and says something about the meaning of being human and part of something bigger: a collective. It navigates how we feel both power and powerlessness in society, and how we deal with spectacle, change and even loss. Carnival for example contains: 'The urge to transform one's appearance, to dance outdoors, to mock the powerful and embrace perfect strangers is not easy to suppress.' And she offers a utopian vision of its possibilities: 'No source of human difference or identity is immune to the carnival challenge. At the height of the festivity, we step out of our assigned roles and statues – of gender, ethnicity, tribe and rank – and into a brief utopia defined by egalitarianism, creativity and mutual love.'
Yet today – against a backdrop of COVID, Brexit, economic worries and hardship – doesn't feel like a time suited to joy, let alone collective joy – something whose importance can be seen across the worlds of art and culture, sport and politics.
Art and Culture in an age of austerity
Art and culture are fundamental to being human; as actor and campaigner Elaine C. Smith says: 'Without art and culture our lives are less – simple as that. The human need to gather together, to experience light, knowledge and joy is essential for our mental and emotional wellbeing. They nourish the soul. The need to assemble, to join and experience something at the same time – from concerts to plays to Panto was what the ancient Greeks believed to be a fundamental human need- a way of feeling alive and connected to something higher.'
Writer Val McDermid notes: 'There's nothing quite as energising and uplifting as the buzz I feel from an audience who are responding to a performance, whether it's at a book event or a musical gig. There's a surge of two-way connection that's uplifting in both directions and the world of Zoom performance feels like an impoverishment.' Artist and academic Ross Sinclair states: 'I think a special moment of collective joy I have experienced in this last wee while has emanated from the 'home shows' of some of my favourite musicians, from the local – the wonderful Carla J. Easton, to the noisy international, Dinosaur Jr. These musicians have of course had their economies destroyed so they have tried to keep the wolf from the door in ever more imaginative and creative ways.'
Asif Khan of the Scottish Poetry Library observes: 'One of the five Ways to Wellbeing is to pay attention to the moment. There is joy to be found if we practice where to look, this applies to audiences and creative practitioners alike.  Libraries are a go-to resource for this fulfilment. A Seamus Heaney quote has proven popular in these times: "If we winter this one out, we can summer anywhere." The collectivism in the 'we' feels more impactful as the virus continues to lay waste to all facets of culture.'
The arts across the UK have been hit by a decade of austerity, cuts and a shift to more safe funding. Nathalie Olah, author of the brilliantly titled Steal As Much As You Can: How to win the culture wars in an age of austerity commented that: 'I would say that any kind of joy is contingent on having basic needs met. But there are still complicating factors within that, that undermine the somewhat overplayed Maslow principle. Social mobility often results in the attainment of financial security at the loss of community, tradition and a sense of belonging—all integral to our well-being and contentment.'
Olah pinpoints the damage of the pernicious ideology of hyper-individualism: 'In my work I've tried to draw attention to that sense of dislocation to show the psychic damage often caused by social mobility and rampant individualism. We live in a system that's designed to make many of us feel ashamed of the places we were born and the people we were raised by.'
Flavia D'Avila, Scottish based, Brazilian-born theatre director, says: 'One of the best compliments I have received on a show I directed was when a friend came over at the end and said he had to get his dad to see it. I chose theatre because of the close contact with the audience, and it's in this shared experience that I believe collective joy resides, which is why I don't feel it from online theatre.'
Football without fans is missing something special. This in a game where the authorities have for over decades been downplaying the importance of fans putting their interests on the backseat compared to TV rights and corporate sponsorship. The 2022 Qatar World Cup coming up is the pinnacle of this view so far.
The Scottish Cup Final on Sunday past was an action filled game and spellbinding advert for the game. A Celtic manager looking to win unprecedented success but also on the ropes; and a Hearts team in the lower league filled with flair and punch. It finished 3-3 and was decided on penalties with Celtic winning. And yet without the fans and with limited energy, emotions and electricity in the air you could feel that something was missing as the players shouts echoed around an empty, rainy Hampden. Broadcaster Stuart Cosgrove says of the communal feeling of fans: 'I think it is one of the lasting experiences of community. Scoring away from home with a small group of fans whose families you know has a real feeling of belonging.'
The Power of Collective Joy in the Politics of Social Justice
Collective joy is pivotal to politics and radical change and social justice. Whether the mid-20th century rise of labour movements across industrialised capitalism, the struggle for women's equality, the campaign for racial justice, the environmental movement, the forces for LGBTQ+ equality, and other movements of diversity, respect and justice – all have within them a cultural and political 'coming together' at their core. What are those early labour movement rituals and rallies such as the Durham Miners' Gala or May Day Parades across the world, but moments of collective re-affirmation, remembering and honouring the past from pioneers to principles and causes, and celebrating past victories?
Incorporation of once radical voices can lead to most of the meaning being drained out of some gatherings – as has happened to many Gay Pride rallies in the West. The once politically aware and influential London Gay Pride has now become so marketised that it has become a day of corporate brands endorsing 'diversity' and brandishing their supposed corporate ethicalness by virtue signalling leading many gay activists to bemoan whether it has any political purpose in its current form.
Such are the perils of radical politics particularly of identity in a capitalism defined by consumption and treating people as consumers to be endlessly sold products. Assimilation like this puts into context the right-wing alarm about the perils and pitfalls of 'identity politics' – which do face many challenges including listening to their own diverse range of voices, but have to retain an authenticity which doesn't reduce them to appearing as extras in corporate branding.
A politics of collective joy should be a pillar of Scottish politics and the mindset of the independence movement. But at times the faultlines between the official party politics of the formal, serious SNP and the more grass roots, spontaneous and unpredictable organisation of street rallies and protest, is a very large one. Somehow there has to be a reappraisal of this divide.
Theologian and lecturer Doug Gay reflecting on wider politics notes: 'Joy in politics can be intense but is often one sided. It is most often the joy of winners over losers. Nicola was celebrating Amy Callaghan's win, but that was also Jo Swinson's loss. The jubilation of Brexiteers over a win for Leave, meant dejection for Remainers. I remember coming back to Scotland in May 1999 when I lived in London, just to be in the country to celebrate the reconvening of the Scottish Parliament. Voted for by 74% of Scots, that was a widely shared joy, with fewer ghosts at the feast.'
Take the All Under One Banner (AUOB) marches which criss-crossed Scotland pre-COVID. Some on the independence side were put out by face painting and flag waving and a politics of celebration and exhilaration which was predominantly working class. Suzanne Blackley, who helps organise AUOB marches says: 'Collective joy within the indy movement brings people together from all walks of life with one single goal, independence. This is never more clearly demonstrated than at AUOB marches when thousands of people join together, it gives each individual person a voice and they feel like they are having an impact. But the minute the march finishes they lose their voice once more. Many feel the SNP don't give them a voice and that their opinion is not being heard.'
The recent 'Big Indy Night In' organised by Voices for Scotland – a whole extended evening of online live music, performance, conversation and debate – exuded a spirit of the best of coming together and people feeling they were part of a community of interest (albeit online) with a genuineness, humour and humanity.
Allan Whyte, campaign organiser of Voices for Scotland said: 'Over and above any other reasons, we wanted the Big Indy Night to act as a glimmer of light and positivity that could ignite something really positive in the independence movement. Like most tragedies, the magnitude of the collective suffering caused by the pandemic won't be fully appreciated for many years to come, but at a time when feelings of loss are raw and unprocessed it is vital to hold on any positives we can grasp.' Elaine C. Smith who MCed it reflected: 'Via the wonders of technology during a pandemic we were able to allow over 1,000 people to gather in common cause to listen, to talk, to exchange ideas, to sing and feel part of something bigger than ourselves. Judging by the amazing heartfelt response it seemed to fill a need that many didn't know they desired.'
A culture of collective joy has never been more needed in 2021 as we hopefully leave the worst of COVID-19. It has to have several key ingredients. It has to be genuine and an expression of collective feeling. It has to be an articulation of something – even if that is football fans coming together or music fans at a festival. It has to have an understanding of who is in it and who isn't and continually navigate this. And it cannot be a front for corporate capture and promotion.
What we have missed in 2020 should allow us to reflect on the pressures which have limited and eroded collective joy, moments and movements. The music festivals that are not really festivals; the NGOs that are really corporates; the cultural products that reinforce the grotesque inequalities of our age; and the politics which isn't about addressing the best of our hopes but shaped by fear, disinformation and dark monies.
As we look around at the state of the world never have we more needed the redemptive power of collective joy. One that is fully human, generous, authentic, diverse and vibrant, and which can reclaim public space and gatherings and do so in a way which is not just serving the capitalist behemoth. That will be a tough balancing act in the world after COVID-19, but such a navigation is fundamental to our well-being and survival – and how our future pans out.